Where You Go, IGO
Issey Miyake's latest innovation knows just how to astonish us with the obvious and provoke surprise with simplicity
For many years, innovation has been one of the main pillars of Issey Miyake's work. Besides functionality and practicality, originality is a hallmark that is rooted in the brand's iconic fragrances.
It was in 1992 when the renowned Japanese fragrance brand launched its first—not to mention, groundbreaking—scent, L'Eau d'Issey. It was an innovative collection based on "water as a material" that it shook the world of fragrance and changed a whole generation's attitude to scent.
28 years later, the brand introduces a new collection that is likewise, the first of its kind: IGO.
A concept that took four years in the making, IGO features a two-in-one scent with a travel format that encourages you to go on an adventure. The perfume comes encased in a dual-function bottle comprising the elegant ISTAY flacon that stays at home to wait for your return and the light and portable IGO cap which contains 20ml of fragrance for spritzing on the go.
Issey Miyake IGO is available in two fragrances: L'Eau d'Issey and L'Eau d'Issey Pour Homme.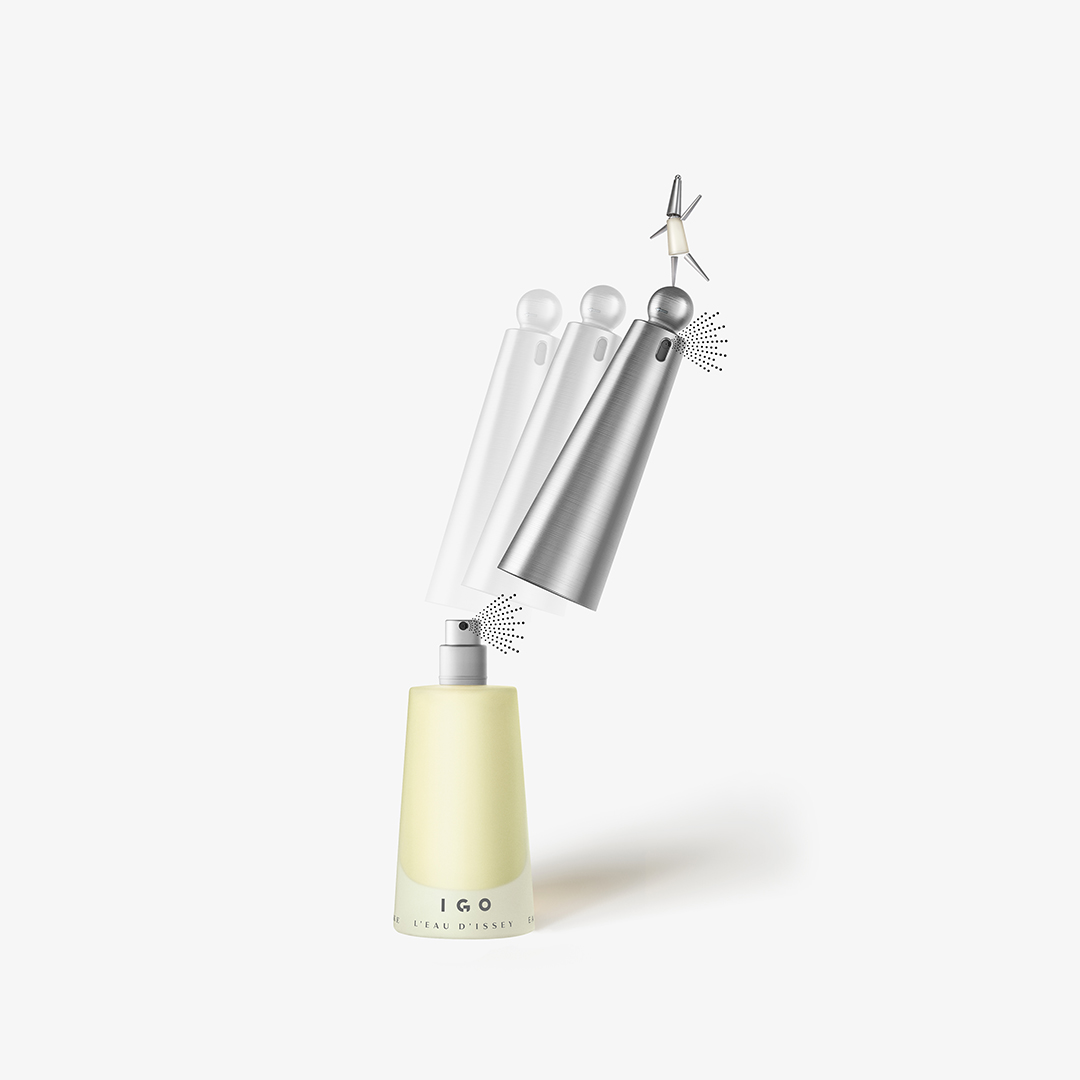 L'Eau d'Issey
Heralded as a visionary in both fashion and fragrance, Issey Miyake's launch of L'Eau d'Issey serves as the perfect example of the Japanese designer's innovation and inspiration from nature. The scent was the first of its kind. It has the exquisite lightness of petals over a base of musk, Osmanthus, and woody notes. Created by Jacques Cavallier, the water-inspired scent is infused with aquatic lotus, rose water, cyclamen, and a shower of freesia over a heart of peony, white lily, and spicy carnation.
Meanwhile, the bottle—uniquely iconic in its shape—is modelled after the silhouette of the Eiffel Tower eclipsing a full moon.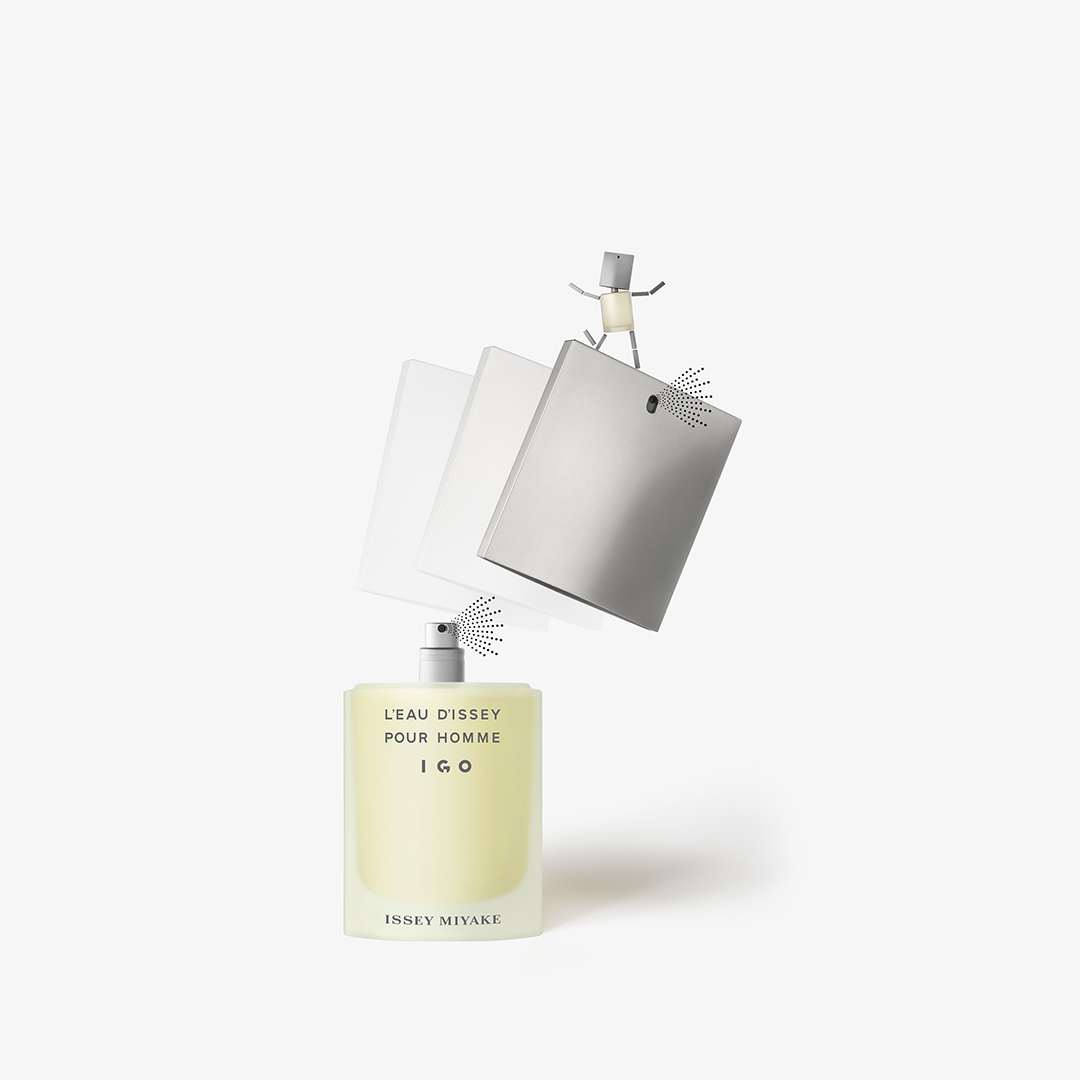 L'Eau d'Issey Pour Homme
When designing this iconic fragrance for men, L'Eau d'Issey Pour Homme, Issey Miyake let nature inspire him once again. Both the scent and bottle reflect the rush of a waterfall, maintaining an atmosphere of strength with woody, aquatic, and fresh notes. It has zesty notes of yuzu and mandarin, while verbena, cypress, coriander, and sage are fused with the heart of blue waterlily. A symphony of spices such as nutmeg, cinnamon, and saffron are complemented by a woody base of velvety sandalwood and spirited vetiver.
Since its inception, L'Eau d'Issey pour Homme has continued to be a go-to for the sophisticated man.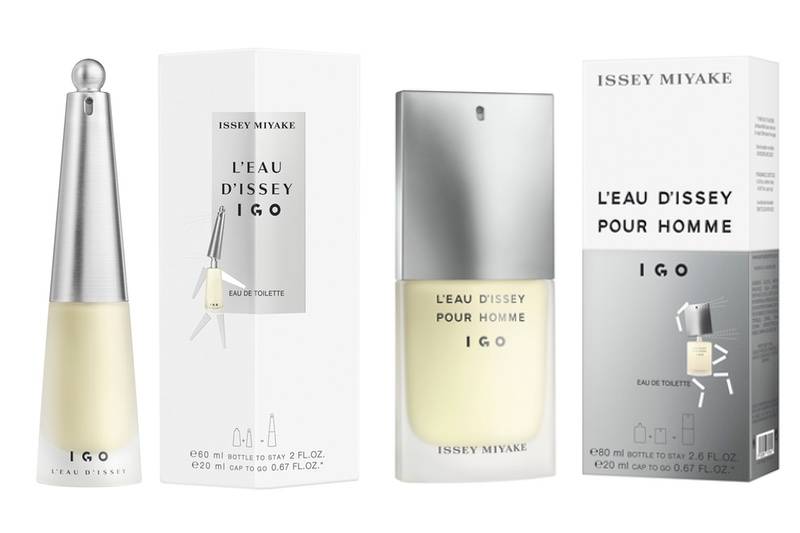 Experience a one-of-a-kind way to take your fragrance with you, wherever you go, in a format quite unlike any other. Exploring new materials, meticulously trying audacious cuts and textures out, everlasting experiments, Issey Miyake believes that nature is the best perfumer and continues to innovate with IGO.
From July 14 to 31, 2020, receive a complimentary Beauty Pouch or Masculine Pouch for every purchase of L'Eau D'Issey IGO or L'Eau D'Issey Pour Homme IGO respectively.
---