Next-Level Skin Care
This latest product from Neal's Yard Remedies is the step in your beauty routine you didn't know you were missing... Until now
Never has there been a more important time to invest in a self-care ritual, helping to boost wellbeing. Bespoke morning and evening skin-care rituals offer that much-needed "you" time to help improve your skin and ground your day.
Simply put, it is about committing to and following a routine that will benefit the health of your skin and deliver the bonus of providing the structure and pampering that benefits your psychological well-being. Caring for your skin is one of the first steps in any self-care routine.
The reality is that our skin, in so many ways, is an indicator of our internal health. When skin looks and feels good, we tend to feel better about ourselves. After the enormous success of Frankincense Intense™, the award-winning natural and organic health and beauty brand Neal's Yard Remedies recognizes there is a gap in the product for a luxuriously premium and super age-defying skin-care tier. Introducing Frankincense Intense™ Hydrating Essence and the key role it plays within the Frankincense Intense™ Lift Skin-Care Ritual.
TREAT YOUR SKIN TO
A VEIL OF HYDRATION
---
Clinically proven to hydrate skin for up to 24 hours, treat your skin to a luxurious layer of hydration for skin so flawless it has the appearance of glass.
80% agree their skin looks brighter | 80% agree the appearance of skin is improved
71% agree their complexion is refined
THE PROOF THAT ORGANIC WORKS

---
95% agree their skin looks smoother | 87% agree their fine lines and wrinkles are visibly reduced
* When using Frankincense Intense™ Hydrating Essence and Frankincense Intense™ Age Defying Serum together
A Korean-born beauty staple, the new essence preps skin with a luxurious layer of hydration to enhance the performance of treatments that follow.
The Frankincense Intense™ Hydrating Essence enhances performance, thanks to its purified pomegranate extract that helps restore the natural flow of water in the skin, which improves water balance and promotes hydration, enhancing the absorption of treatments that follow.
It also conditions skin with plumping sodium hyaluronate that binds water to the skin to help retain water, and conditioning argan oil to nourish and strengthen to leave skin feeling soft, smooth, and radiant. Finally, it enhances one's wellbeing by soothing your senses with Boswellia sacra (frankincense) essential oil, treasured for centuries for its deeply relaxing aroma.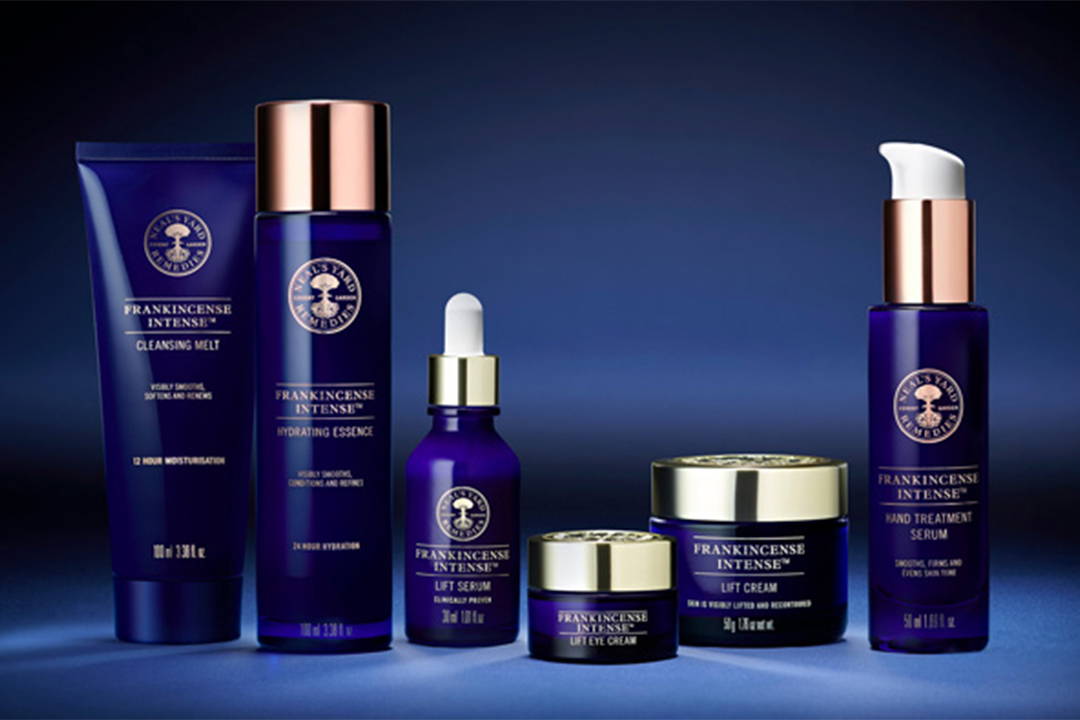 Even Better Together
With Frankincense Intense™ Hydrating Essence, you can step up your skin-care game with the ultimate age well routine. The Frankincense Intense™ Skin-Care Ritual soothes your senses and targets the second signs of aging with award-winning and certified organic skin care.
---
Add a luxurious cleansing ritual like the Frankincense Intense™ Cleansing Melt in to your daily routine to melt away everyday impurities and moisturize skin for up to 12 hours.
HYDRATION, HYDRATION, HYDRATION

---
Frankincense Intense™ Hydrating Essence is the perfect pre-serum prep to provide a luxurious layer of hydration for flawless skin.
---
Amp up your routine with Frankincense Intense™ Lift Serum. Different to a moisturizer, this is designed to deliver a targeted boost of high performing actives to supercharge your skin-care routine.
---
The first place on your face to show a late night, using Frankincense Intense™ Lift Eye Cream will help protect, hydrate, and condition the delicate, thin skin around the eye area. Pat on in the morning to de-puff for the day and add into your evening routine to help smooth and hydrate while you sleep.
---
A moisturizer acts as a seal for the skin—locking in all your added hydration and nutrients—as well as being your complexion protector against the elements. Frankincense Intense™ Lift Cream has ultra-nourishing trio of organic butters and oils to help strengthen, soften and restore your skin.
The easiest part of a good skin-care regimen is finding the products that will work best for you. When you create good daily habits, you will be able to keep skin youthful and glowing. So make sure you're taking time out for yourself and your skin will thank you.
---