Awakening Your Eyes
Nature offers your skin a few extra hours of sleep with this latest product from L'Occitane
From working at home to keeping the house organized to taking care of the family to Zoom dates with friends and loved ones, we are all juggling too many things at the same time and let's face it—there's simply not enough hours in a day.
No matter your lifestyle, your age, or where you live, you have, at one point or another, experienced fatigue. One of the biggest skin concerns each one faces is visible signs of fatigue, particularly in the eye area.
The skin around the eye area is especially sensitive to stretching and sagging. At times, you wake up with puffy eyes, even if you've clocked in a few extra hours of sleep. With fine lines, wrinkles as the most common signs of aging, the best way to combat these is to invest in proper eye care. Fortunately, L'Occitane has a solution for this very concern.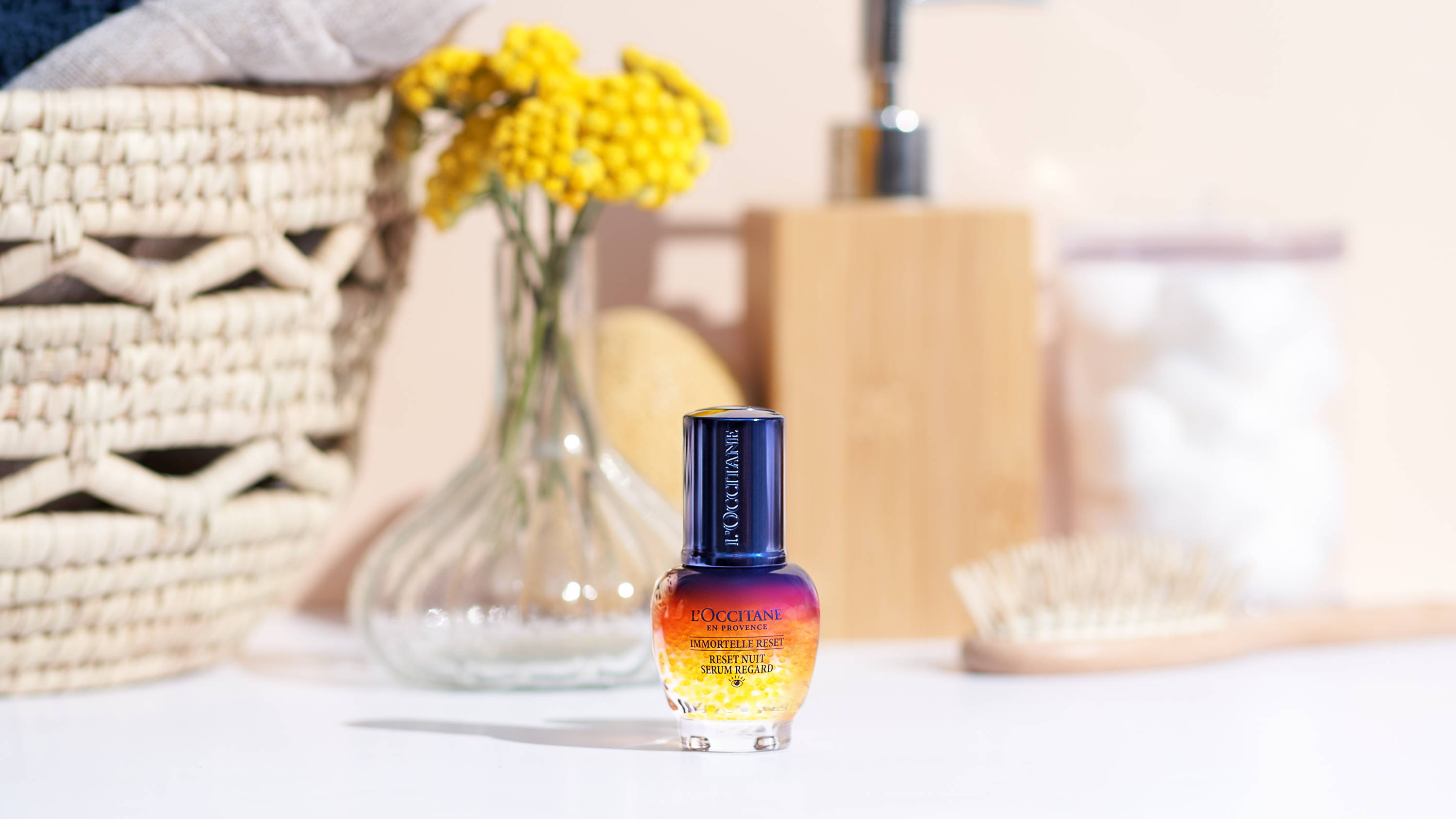 From its successful Overnight Reset Serum, the French natural beauty brand introduces a new addition to the Immortelle Reset family, Overnight Reset Eye Serum. It uses the collection's key ingredient: immortelle essential oil that is sourced from 100% organic producers in Corsica.
The key ingredients include Marjoram extract, a remarkable plant that helps wake up and reset the skin exposed to environmental aggressors every day; Acmella oleracea extract, a plant that helps soften facial wrinkles caused by stress or fatigue; L'Occitane's botanical complex composed of five plant extracts (butcher's broom, centella asiatica, calendula, horse chestnut, and liquorice), and yeast extract. These ingredients are designed to work together in synergy specifically for the eye area to help boost and soothe the skin, for a fresher and more rested look.
The Overnight Reset Eye Serum, can be used day and night to help correct the signs of aging, protect against the effects of pollution, reduce the appearance of puffiness or dark circles, and smooth fine lines and wrinkles. You'll start seeing these visible benefits with continuous use of the products. It feels like you reset your skin around your eyes!
After just one week, dark circles and wrinkle appearances are reduced while the complexion radiance around the eye is boosted, and the smoothness is increased.
ComplEment your Skin-Care Routine
Suitable for all skin types, Immortelle Overnight Reset Eye Serum can be used all-year round and be added into any skin-care routine:
---