A Full Night's Sleep—in a Bottle
Clarins poured all its expertise into creating a new serum specifically for the eyes
When it comes to anti-ageing serums, Clarins Double Serum is often regarded as world class product. A formula that riffs on the double combination of a hydric phase (water) and lipidic phase (oil) with a whopping 21 plant extracts, this cult-classic sells one bottle every five seconds due to its proven ability to deliver a more radiant, firmer complexion with daily use. Since its first release in 1985, the demand for this product has not wavered.
Now in 2021, following a scientific breakthrough, Clarins channelled all that double energy into a first-of-its-kind eye serum that promises to be just as impressive as its predecessor.
Like the rest of the body, the eye area works hard too as the skin blinks an average of 10,000 times a day, and it's the area most exposed to blue light. Pair that with short nights, stress and long days in front of the computer—the eye area is vulnerable to wrinkles and puffiness.
Enter Double Eye Serum. Adopting its best-selling formula into the eye serum, this revolutionary product visibly reduces signs of aging, gets rid of wrinkles, puffiness, and dark circles.
Harnessing extensive Clarins research, Double Serum Eye boosts protein production by 119%, thanks to the discovery of one wonder ingredient, the organic wild chervil. Clarins studied 196 plant extracts and proved that organic wild chervil is the most efficient active ingredient for boosting production of alpha-v integrin, a protein that plays a major role in maintaining skin structure around the eye. Combined with 12 other plant extracts in a specific double-phase formula, this key ingredient works in perfect bio-affinity with the skin around the eyes to target all signs of skin aging.
The unique formula is made with 96% natural ingredients, including turmeric and organic ginger lily, which work together to strengthen and smooth the eye area. Clarins' laboratories prioritize ingredients of natural or plant origin when these offer the same efficacy and tolerance as a synthetic ingredient. Add to this Clarins' anti-pollution complex, which offers protection against daily environmental damage, and the Double Serum Eye has a powerful combination of ingredients will truly deliver.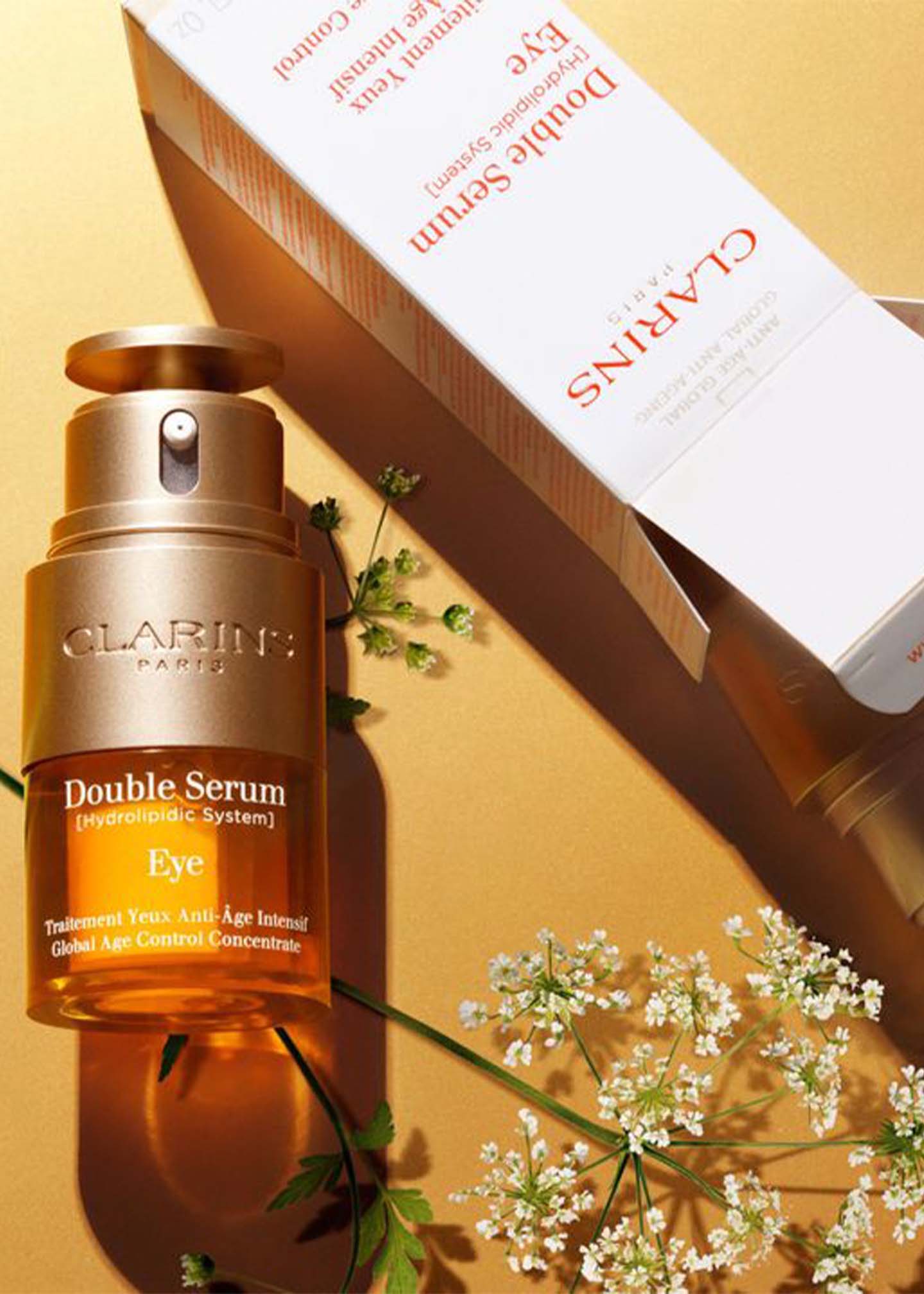 There is also avocado oil to help maintain the suppleness of the skin, escin from horse chestnut to reduce puffiness and dark circles, and organic kiwi extract, organic oat sugars, and plant-based caffeine to brighten the eye area.
As for texture, it combines the tightening effect of a gel with the comfort of a cream, which is quickly absorbed into the skin upon application. It is recommended to apply Double Serum Eye every morning and evening after cleansing the eye area. How do you apply? Here's a quick tutorial from Clarins:
The eyes are the window to the soul, as the saying goes—and they're also the first place where we show tiredness, stress, and dehydration. With the Double Serum Eye, you're sure to look like you've had a full night's sleep, thanks to this one innovative bottle.
---