Rustan's Beauty Addict is Back: Introducing the GLOW Beauty and Beats Festival
It's sunset all around the clock in Rustan's Beauty Addict's celebration of music and all things beauty
Heads up, Beauty Addicts! The metro's favorite annual celebration of skin care, hair care, fragrance, makeup, and all things beauty is back for its seventh run. Say hello to Rustan's Beauty Addict's 2019 iteration: the GLOW Beauty and Beats Festival. Happening on September 5 at Rustan's Makati, the first-of-its-kind festival brings together beauty gurus, skinfluencers, and makeup aficionados alike in a celebration of two things we're guilty of loving most: beauty and music.
Ready, Set, Glow
Music has long been recognized as an avenue for self-expression and freedom, which makes it the perfect counterpart to the color, spirit, and playfulness of the beauty realm. The GLOW Beauty and Beats Festival joins these creative forces to fashion an all-new Beauty Addict experience.
For Beauty Addict 2019, Rustan's Makati as we know it will transform into a wonderland of bright lights, fun installations, and vibrant palettes, setting the scene for a festival getaway right in the heart of the city. Attendees can shop Rustan's the Beauty Source's ever-growing roster of beauty brands including CHANEL, La Prairie, Clarins, Neal's Yard Remedies, Perricone, Murad, Sisley, L'Occitane, Phyto, Diptyque, Jane Iredale, Stila, Deborah Lippmann, Acca Kappa, among others.
There will also be activity booths where Beauty Addicts in attendance can amp up their festival-worthy looks even further with a sprinkling of glitter, face tattoos or an additional pop of color. Photo walls and a ball pool made specifically for snaps and Boomerangs will also ensure plenty of 'gramming opportunities. To add more flair to your posts exclusive Beauty Addict Glow Instagram stickers, wallpapers, and quizzes are available for your use!
That's not all: what good is a festival without music? Live performances by DJ Nix Damn P, The Ransom Collective, and Nicole Asensio await GLOW-goers. In between sets, attendees can listen to the specially curated Rustan's Beauty Addict: GLOW Spotify Playlist as they post away on social media from the comfort of the lounge and cocktail area.
Need a pick me-upper from all your beauty shopping? Drop by the food carts and refreshment areas to put back the pep in your step!
Deals, Discounts, and Digital Delights
Making the Beauty Addict experience even better for shoppers this year, Rustan's the Beauty Source is delivering on the digital front, too. Generating more buzz for the annual celebration of all things beauty, Rustan's has created a variety of exclusive Beauty Addict Glow Instagram stickers, wallpapers, and quizzes for Beauty Addicts to enjoy.
This year's event also marks the launch of the Beauty Addict mobile app. Simply update or download the Rustan's FSP App on Google Play or the App Store and instantly gain access to over a hundred well-loved brands! Points earned on purchases made during the event can now be credited through the mobile app.
Any purchase made during the GLOW Beauty and Beats Festival lets you become a member of Beauty Addict. Simply proceed to Customer Service, present your receipt, and register.
For existing Beauty Addict members, download the app through the App store or Google play and get a 50-point reward equivalent to a P10,000 purchase. Even better, points earned by members from purchases made on the day of the event will be multiplied by 10!
Can't get enough? Get ready to shop as Rustan's The Beauty Source lets you enjoy exclusive one-day promos during the event. And the excitement doesn't stop there! Shoppers can look forward to weekly promos that highlight a different category per week, which you can enjoy the whole month of September:
September 1 to 8: Sweet Scent-sation
You want something new and fresh? Scent-sational offers of up to 25% off from Maison Francis Kurkdijan, Diptyque, Calvin Klein, Gucci, and more fragrances!
September 9 to 15: Come On, Skin Love
Glowing skin is in! Show your skin some love and get up to 20% off from L'Occitane, Clinique, Clarins, and more from your favorite skin-care brands!
September 16 to 22: Glowed Up
Get your glow on with exciting offers from Guerlain, Sisley, Deborah Lippmann, and receive special gifts to complete your glowed up look!
September 23 to 30: Bath, Body & Soul
Hey soul sister! Look and feel great from head to toe with your favorite bath and body brands!
Make your shopping even more exciting with a chance to win a luxurious getaway as Rustan's brings you Beauty Addict Your Dream Destination Raffle promo! For every P2,500 purchase at Rustan's The Beauty Source, Beauty Addict members who sign up as a KrisFlyer member using promo code KFXGLOW can get one (1) raffle entry for a chance to win a trip for two (2) to Club Med Maldives, Bali, or Phuket. Want to know more amazing promos? Then click on the Rustan's Beauty Addict online site for more beauty deals!
This year's celebration is in partnership with Metrobank, with special thanks to Raffles & Fairmont Makati and Engkanto Brewery. Guaranteed to be bigger and grander this time around, don't miss out on taking special snaps and make sure to have your photos taken by Sweet Escape Photography. Continuing their support for the ICanServe Foundation, Rustan's The Beauty Source will be donating a portion of the proceeds from this year's celebration.


Keep up with the latest deals, promos and brand offerings by following Rustan's the Beauty Source on Facebook and Instagram or visiting their official website at www.rustans-thebeautysource.com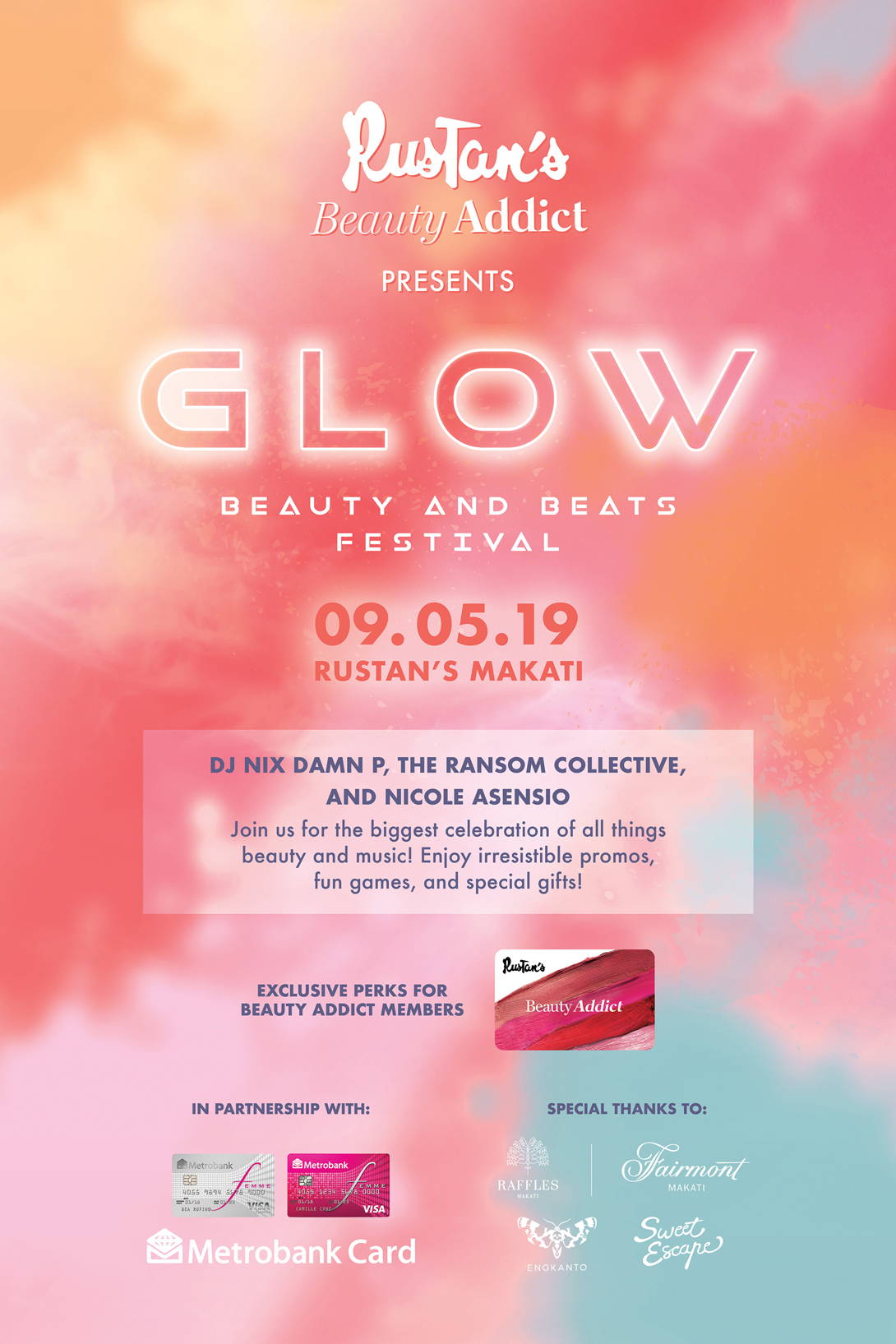 ---