All Decked Out for the Holidays
Rustan's Christmas Shop has everything for a decked out holiday-themed home this 2020
The most anticipated holiday has taken a new turn this year. As families spend more time at home, the deeper meaning of Christmas is inevitably magnified. Togetherness is the priceless gift every parent and child have been blessed with despite the challenges brought by 2020. End the year with resilient joy that finds its root in a grateful heart. Share the light that shines within by making your family's dream holiday-themed home come true with Rustan's Christmas Shop!
With a wide selection of traditional and modern trees, lights, ornaments, ribbons, and accessories, Rustan's Christmas Shop is the metro's go-to décor destination. Ponder through realistic evergreen Christmas trees to fiber optic options. Pick out warm, white, and even multicolored lights to dazzle up your decor. Find large, small, bold, and muted Christmas balls with complementing ribbons for a truly festive feel. Top it off with garlands, wreaths, poinsettias, snowflakes, stars, nativity figurines, crosses, and other meaningful home adornments that will truly make the season magical.
A memorable Christmas awaits! Take inspiration from these holiday themes for a family celebration that's definitely one for the books.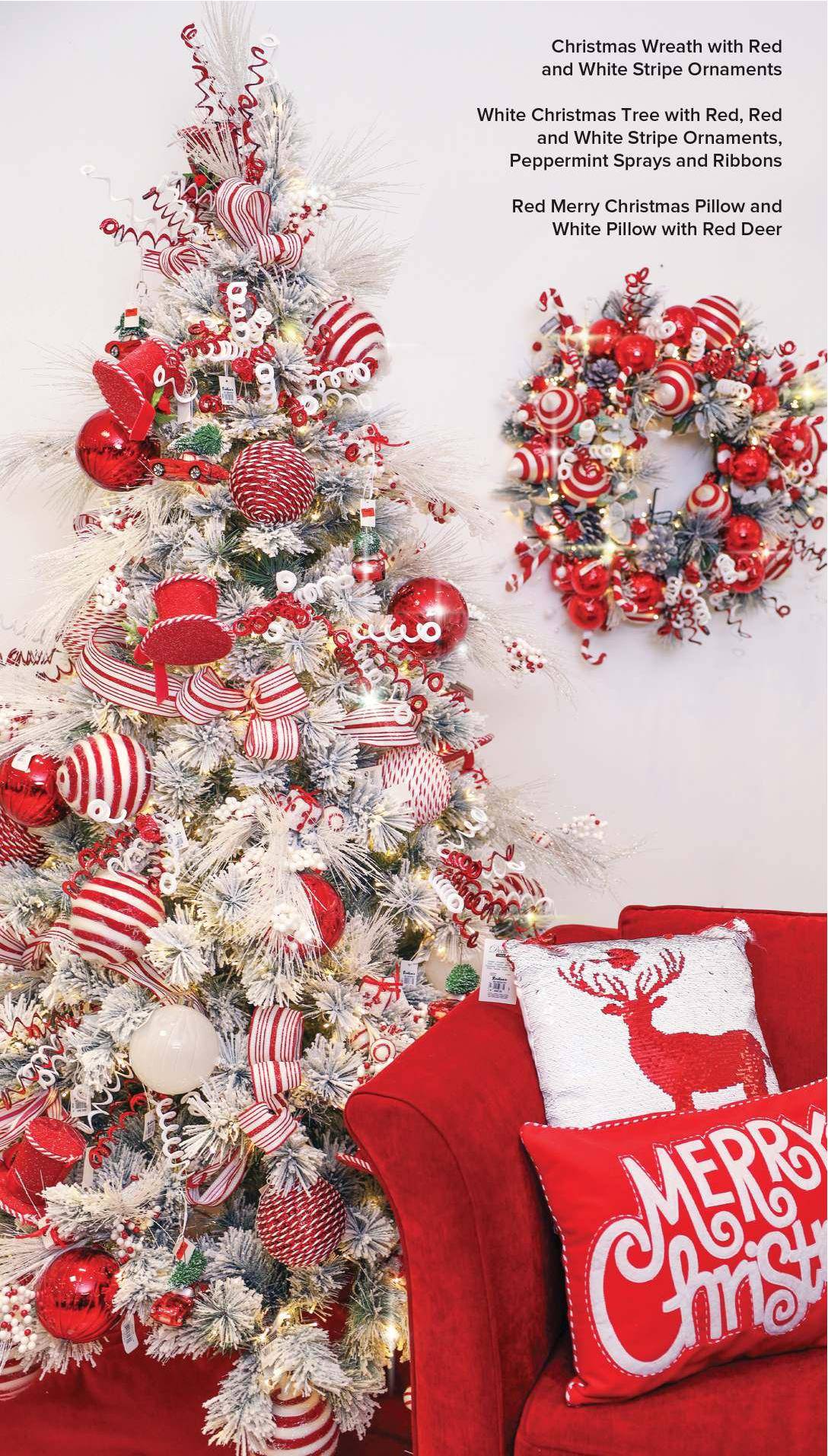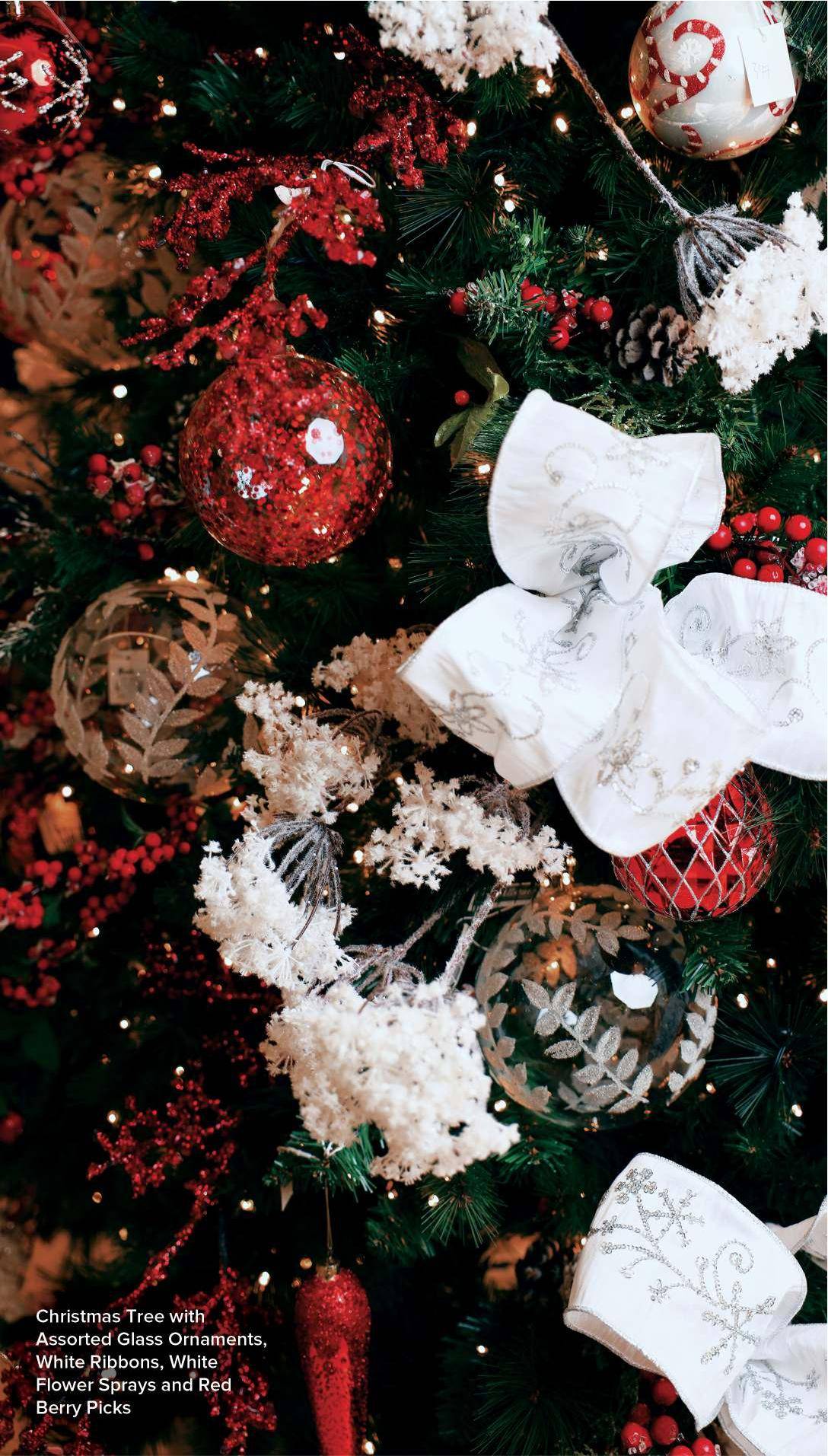 Stay Traditional with Red and White
Bring the family back together to decorate the home in crimson hues. Dress the Christmas tree with Rustan's Christmas Shop's peppermint-colored ribbons and hanging ornaments. Add traditional touches of velvet poinsettias and wreaths for a more festive living room. Playful accessories like Santa Claus figurines and Rudolph-themed pillows are sure to excite children and the young at heart!
Rustan's also has choices aplenty for luxurious home décor like the porcelain Roby-Courageous Bear Figurine by Llardo. A symbol for courage, kindness, and patience, this is a reminder of what a family should strive for this Christmas season. Bake sweets for the family and cookies for Santa with Cake Boss bakeware items. Cut neat slices of cake with Bugatti Italy and set aside Santa's milk with Christmas mugs.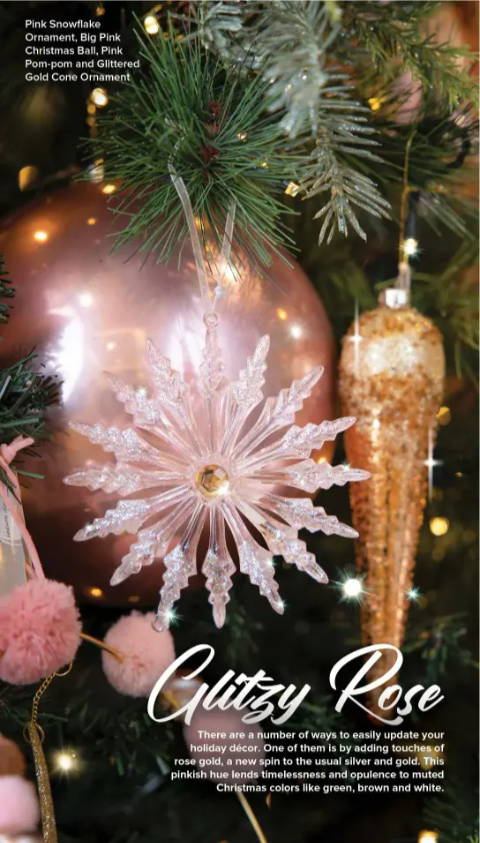 Go Modern with Rose Gold
Add touches of rose gold for a modern take this season. A millennial favorite, this pinkish hue lends timelessness and opulence to muted holiday colors like green, brown, and white. Set up an eye-candy Christmas tree adorned with pink snowflakes and glittered gold cone ornaments. Complement it with stylish living room accessories like Rustan's Christmas Shop's pink pompoms, velvet stocking holders, polar bear plushies, and rose gold firwood nutcrackers. Go all out with matching pink and gold tableware by Christofle.
Bring the restaurant experience home with 5-star dishes using high quality kitchenware and tableware. Sophisticated dinner plates by Bordallo Pinheiro vogue up the festive feel. Pair it with silverware from Eme for a complete modern holiday look. Continue the night with hearty conversations over artisan coffee prepared using the De'Longhi and Breville's expert coffee makers.
Keep it Classy with Silver and Gold
Never go wrong with this classic palette. Perfect for both minimalists and maximalists, tone down or dial up with tree decorations consisting of gold and silver ornament balls and luxurious gray Christofle flutes. Rustan's Christmas Shop also offers silver and white pine cones, which are great additions to wreaths and other table centerpieces. A white Christmas is not complete without sugar coated treats and tea—all prepared using the ever-reliable Breville stand mixer, and served in Queen Anne's elegant tea set.
Standout with Blues and Metallics
Make heads turn with bold and beautiful holiday décor like aqua Christmas balls, silver flowers, and glittery butterfly sprays. Opt for a non-traditional theme with blue and aqua Christmas balls, flowers, and sprays add up to a relaxing feel in the family living space. This bold and beautiful theme is inspired by iconic Tiffany gift boxes. Add unexpected details like Rustan's Christmas Shop's white with gold birds and snowflakes in glass cases, while elevating allure with festive flowers kept in spectacular Aderia vases.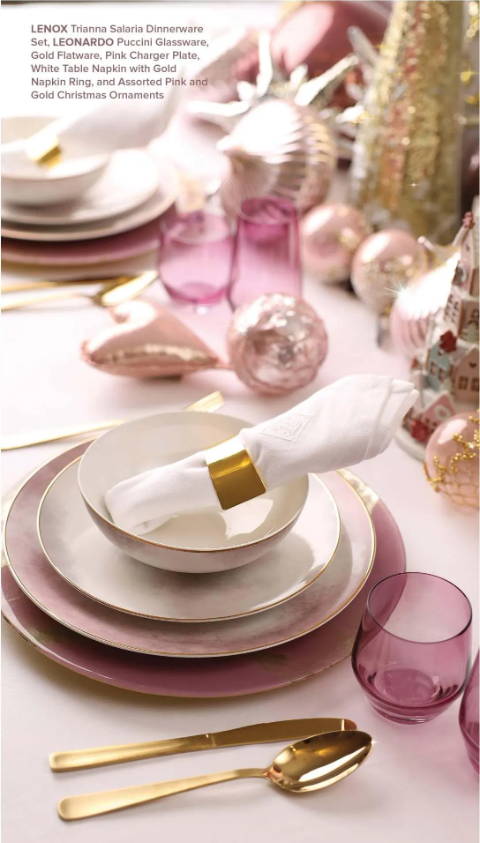 Swoon at the touch of Blush
A romantic holiday is in season for couples and newlyweds. Liven up the home with a whimsical Christmas tree designed with snowy wreaths, blush pink ornaments, frosted pinecones, and white fern sprays. Spice things up with tastefully curated holi-dates, starting with flavorful dishes and champagne served on rose-tinted dinnerware and silver flutes by Lenox and Luigi Bormioli. Adorn the room with Aromabotanical scented candles for a voluptuous atmosphere.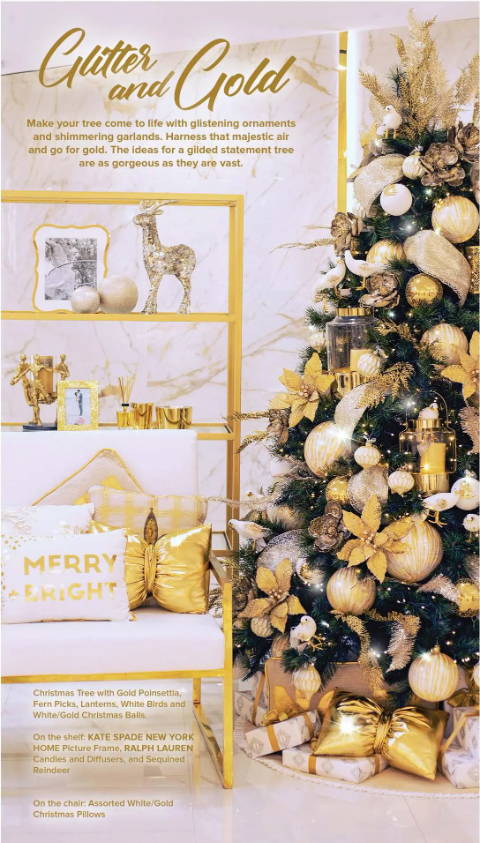 Shimmer in Twinkling Gold
A majestic Christmas tree adorned with big white and gold Christmas balls, poinsettias, lanterns, fern picks, and other ornaments make a luxurious holiday-themed home. Sparkle it up with Rustan's Christmas Shop twinkling lights and accessorize the living room with complementing touches from Rosenthal, Lalique, Kate Spade New York Home, and Ralph Lauren Home.
Capture the shimmer of the season by pairing Lenox Place Settings with Rustan's Filipiniana's Capiz Charger Plates, it's a product of our very own! Complete the table with Bugatti Flatware and Christofle Water Glasses.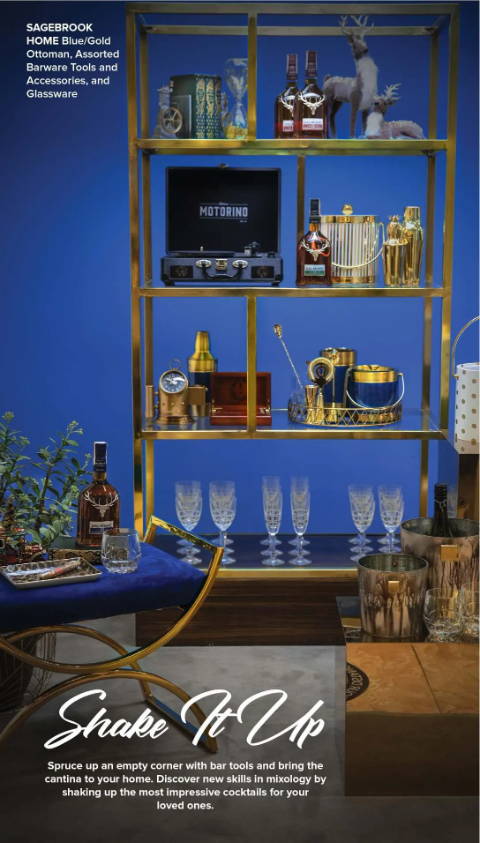 Cozy Up with Dark Blues
Paired with gold and silver, the regal shade of dark blue creates an air of confidence and inexplicable richness. Deck the tree with Rustan's Christmas Shop's glittered blue and gold ribbons, Christmas balls, and hanging ornaments like blue stars and gold candles. Shake up the cozy vibe by mixing cocktails or serving wine for the family by complementing the blue with gold barware by Bar Professional and Mr. Ice Bucket.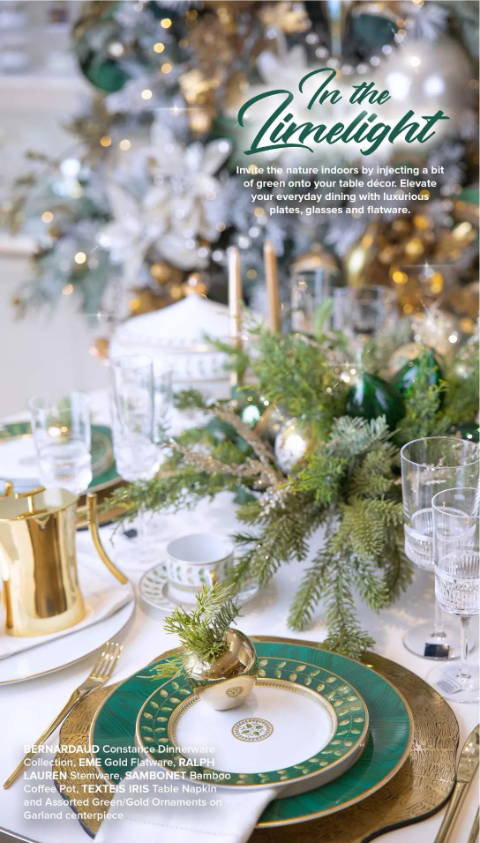 Luscious Greens and Metallics
Greens and metallics with natural tones of emerald, forest, mint, and sea green is a tasteful holiday theme worthy of the limelight. Sip wine by a dashing tree accessorized in sea green and golden ribbons, silver poinsettias, acorn sprays, and assorted champagne-colored ornaments.
Set the table with Bernardaud tableware and Leonardo Puccini tumblers. The champagne-colored flatware from Sambonet is a breathtaking complement to the dinner plates and tumblers. Add a dramatic centerpiece to your home with the Lalique Champ Elysees Bowl, an art piece designed by Marc Lalique in 1951 and handcrafted by skilled French artisans.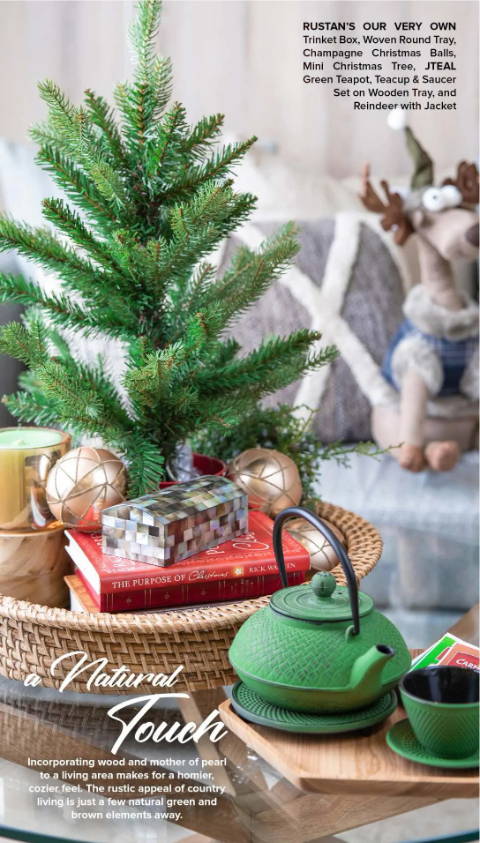 Lay Back in Country Color
Choose rustic touches for a relaxing feel by bringing the outdoors indoors through an evergreen Christmas tree, warm Christmas lights, and earth-colored décor like brown pinecones and champagne ornaments. Incorporate the living area with touches of wood and mother of pearl from Rustan's Filipiniana Our Very Own. Children will love lounging on floor cushions by Excellent Houseware whilst the whole family savors a slow morning with yuletide background music.
All in all, this year's Christmas remains to be a season for joy and celebration. With a treasure chest of Christmas trees, ornaments, and other accessories, Rustan's Christmas Shop has all essentials for a decked-out holiday-themed home that the whole family will enjoy. Furthermore, Rustan's offers a Personal Shopper On Call program for shop-from-home convenience. Enjoy only the best service and the best Christmas décor for an overall amazing holiday with Rustan's.
Shop-from-home with Rustan's Personal Shopper On-Call program. Contact your favorite Rustan's store to request for the personal shopper service and a Sales Associate will be assigned to assist you with your inquiries, order confirmation and payment transactions. Fulfilled orders can be collected via curbside pick-up or items can be delivered to you for free, for a minimum purchase requirement of P5,000.*

*Beginning November 1 for Personal Shopper On Call, a minimum purchase of P5,000 automatically grants you free delivery for Metro Manila and Provincial Areas. Meanwhile, a P200 fixed delivery fee will be charged for purchases below P5,000 in Metro Manila and P300 for provincial areas. Delivery will be offered for Cebu staring October 24, 2020.
                                                                                   
Complete Terms & Conditions and additional information about the Personal Shopper on Call program can be found at www.rustans.com
ONE NUMBER, THOUSANDS OF POSSIBILITIES
Beginning October 24, the personal shopper on call will be accessed through one universal number:
0917-111-1952
Personal Shopper on Call is for in-store inquiries, orders, and feedback only. All online inquiries and feedback must be coursed through Rustans.com Customer Service team.
Online-Only Offers and Promos are not available through Personal Shopper On Call, however there may be other store-based offers available to you.
RUSTAN'S DEPARTMENT STORE PICK-UP POINTS AND STORE HOURS

Rustan's Makati
Main Entrance, Courtyard Drive, facing Glorietta 5
10:00AM to 9:00PM
Rustan's Shangri-La
Main Entrance, Internal Road of Shangri-La Plaza
11:00AM to 8:00PM
Rustan's Alabang
Main Entrance facing Parking Lot of Alabang Town Center, Commerce Avenue
11:00AM to 8:00PM
Rustan's Gateway
Main Entrance, General Aguinaldo Avenue facing New Frontier Theater
10:00AM to 8:00PM
Rustan's Cebu
Main Entrance, Cardinal Rosales Avenue
10:00AM to 7:00PM
---