The Opulent Golden Heart
FSP Premium member Sylvia Ramos—known to family and friends as Bing—shares her story of why she loves to go back to Rustan's after all these years
Sylvia Ramos is a warm and captivating presence that uplifts the people around here. When we sat down with her to talk about everything from shopping, luxury, faith, to Rustan's, it was not just her demeanour that we fell in love with but also her bright style and cheery smile.
Sylvia—affectionately known to her closest friends as Bing—has been a loyal patron of Rustan's since her younger years but it was in the year 2000 that marked her long love affair with the brand. She came for the merchandise but stayed for the service, the experience, and the people that she has come to love at our stores. She walks us through her life in luxury, love for gift-giving, and everything Rustan's.
A life lived in luxury and style
"Darling, we're very familiar with luxury retail," she shared as we talked about the story of her life.
She and her husband were based in the Middle East for almost 32 years. She worked as a flight attendant for Saudia Airlines before meeting she and her husband met the owner of a boutique retail brand in Bahrain who asked them to join the company as buyers. She later transitioned as a concept manager position for a women's sleepwear and loungewear brand. She shares her experience of working in luxury retail with so much gusto. It was during this time in her life that her character, not only as a professional, but also as a tastemaker, was honed.
But in 2000 she decided to come back home to the Philippines. It was then that she shifted from working in the backend of retail to being the enthusiastic shopper that she is now.
19 years later, Bing still carries the sharp eye and strong wit that she has developed from her years in the industry. She is disciplined, decisive, and graceful.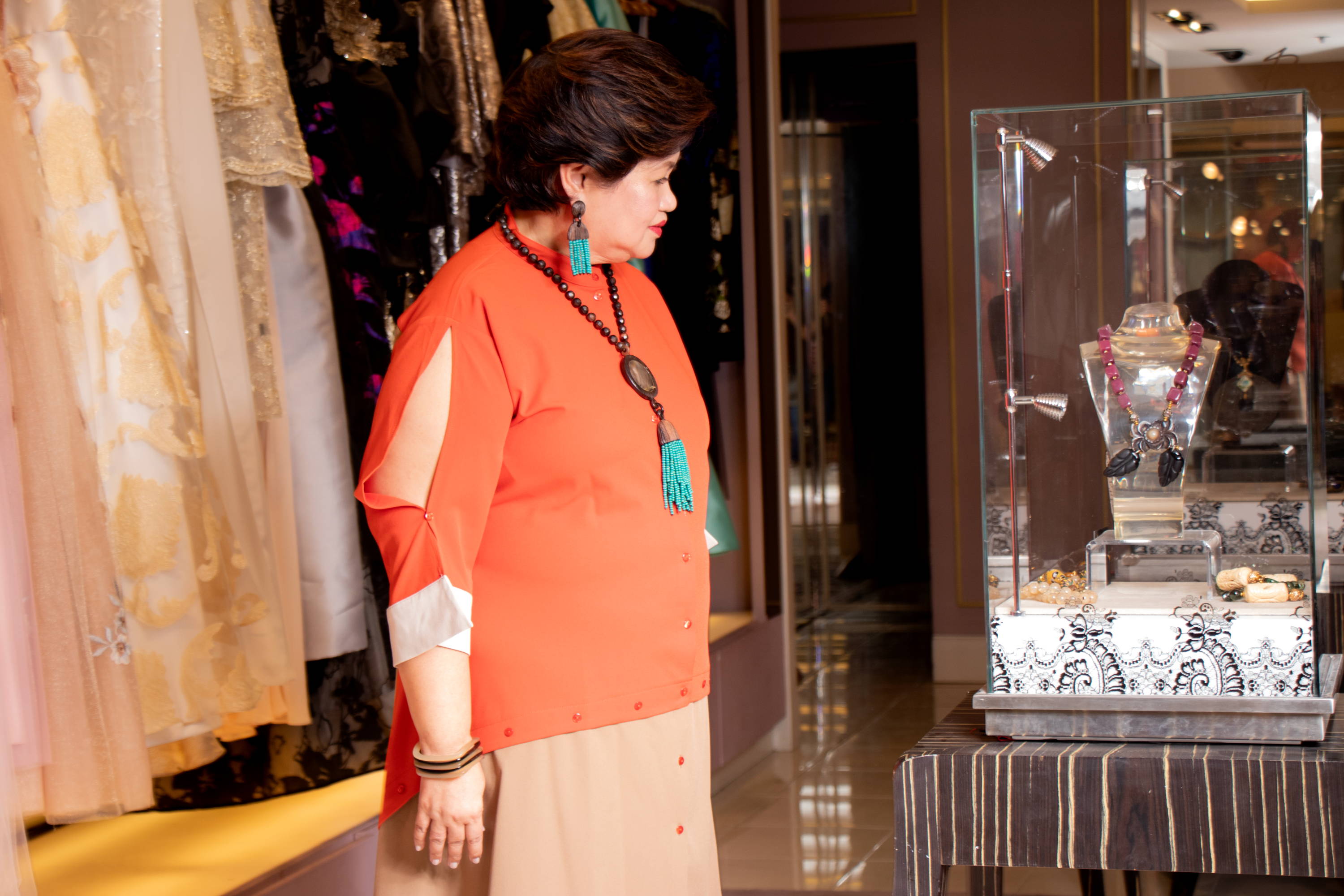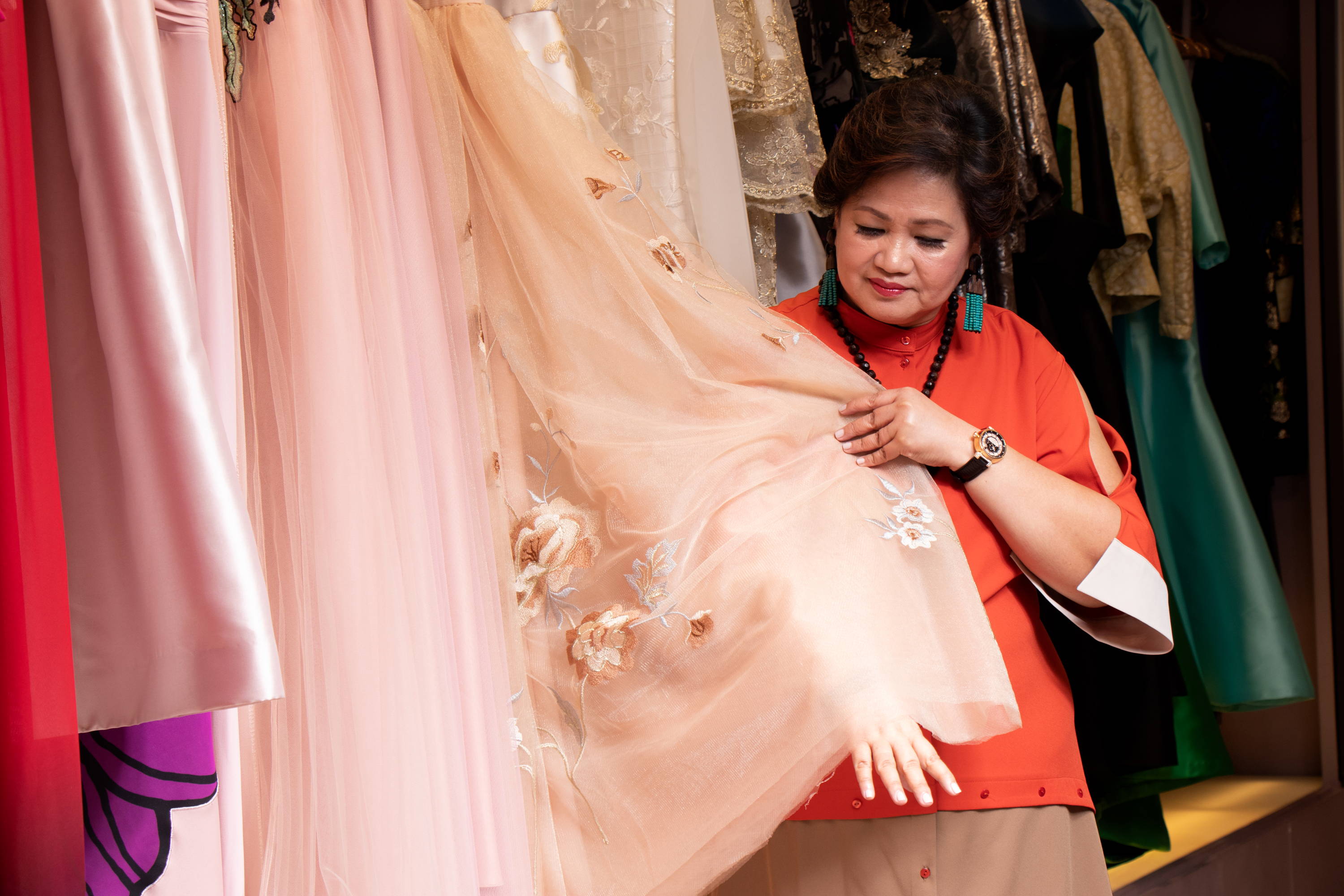 her shopping playground
One of the things that stood out when we met Bing was her impeccable style and radiating presence. She arrived with her team at Clarins, Rustan's Makati, all ready and made up for the shoot but was also gracious enough to look at the pieces we selected and curated for her shoot. The outcome was Sylvia clad in dresses from this season's Ricardo Preto Woman and Lady Rustan that she recently got for herself, they were accompanied with bold jewelry and unassuming fineries from her personal collection.
Most of what's in her fashionable wardrobe are items that she shopped at Rustan's and with her favorite personal shoppers like Sir Leo and Miss Cayton from our Alabang Town Center store.
"When I shop, I just sit down and the staff attends to me and [they] show me things that they know I would already like. And that's part of the service which I appreciate very much," Bing shares.
Aside from her love for the fashion pieces, she is a well-rounded shopper with an affinity that ranges fragrances, homeware, decorations, and even toys! She extensively talked about her collection of dolls and Hello Kitty—she has her own Hello kitty room at home that would make every Sanrio fan's jaw drop.
She had to admit though that her favorite brand from Rustan's would have to be Lladró, the Spanish ceramics brand that creates masterfully crafted figurines.
"I shop in all sections from ladies to home, and even kids and toys. But my favorite would have to be Lladró—the figurines. I like to make stories with the decor. When you go to my house it's very holistic. There's the life-sized Risen Lord and then I complimented it with my family of Lladró figurines. I have the Lady of Guadalupe, Mama Mary, and more. It's my precious collection. I enjoy praying. And that's why I also have my collection of Lladró collection. The happiest moment in my day is when I pray."
She mentioned that most of her friends would joke that her home is like an extension of our stores. It would have to be true as Sylvia recalls that almost, if not all, of what fills her home are from Rustan's. It's a testament to her love for shopping and her patronage to the brand.
"I call Rustan's my playground because I walk around, not only to shop but I also talk to employees like they were my own. It's like my home," she shares as she talked about how the stores are beyond compare—from safety, to merchandise, as well as the service.
"Talking to the people at Rustan's gives me peace. I can be relaxed and relate with everyone there. They are all my friends. And if you ask what is the best thing that keeps going to Rustan's, it's not just the merchandise but the people who entertain me. I love that they listen to my advice."
Being a loyal shopper of Rustan's, Bing has also become a Frequent Shoppers Program (FSP) Premium cardholder, a program that has given her so many perks throughout the years. With her FSP Premium card, some of the perks she enjoys are getting exclusive promotions from Rustan's, as well as earning bonus points for her purchases. She likewise earns triple the value of her points once a month on any day of her choosing in any Rustan's Department Store. She is also credited with P500 E-Purse on her birth month.
Other perks she enjoys with her FSP Premium card include a 1% rebate for all her purchases, free gift wrapping for her purchases, as well as free coffee and pastry rewards that she can avail at East Café.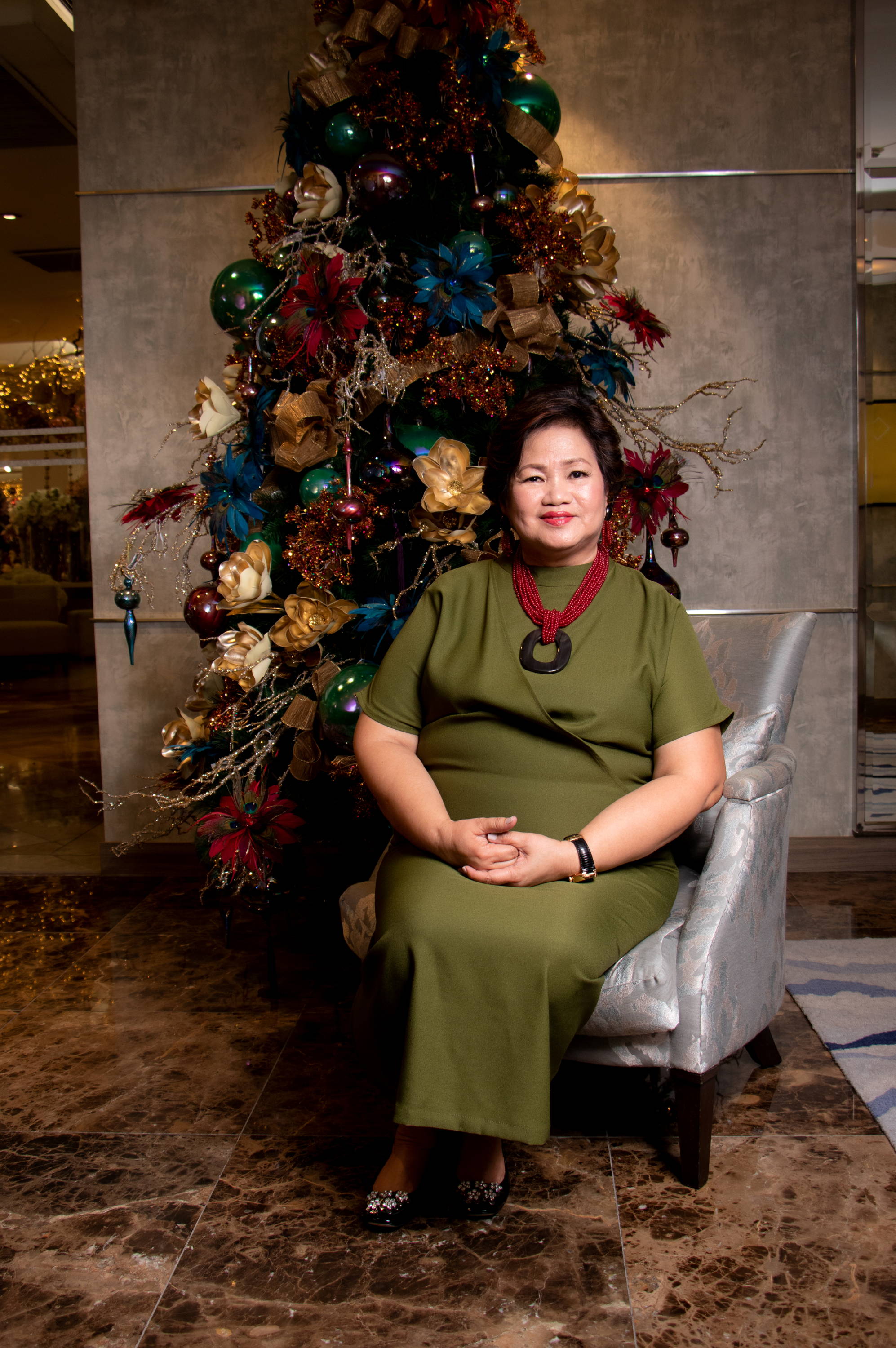 The Gift that keeps on giving
"Part of my spirituality is that I give special gifts on Christmas, but people don't know that I'm the one giving them. And I buy all of those gifts from Rustan's," shares Sylvia of her favorite tradition at Rustan's.
Being the meticulous and disciplined shopper that she is, Sylvia starts her gift shopping as early as August. It's one way for her to avoid the easily stressful December shopping season. She would collect these gift-able items from all over the store, but her favorite would have to be the gifts with purchase that comes with shopping the luxury fragrance brands.
"I am not after the actual item that I'm buying, I'm looking at the gift that comes with it. I separate the item itself and I giveaway the gift with purchase that I get."
When she buys these fragrances she would have the beautiful freebies wrapped up for future gifts or sometimes even the actual perfume itself.
"It came to the point that I would shop too much that I would have to stop myself. I would tell the store associates who offer me the fragrances that I have enough supply to last me five years."
All the shopping is for good reason, Sylvia often sponsors gift-giving drives at her chosen community Pag-ibig sa Diyos Catholic Community and her annual family gatherings where it's a full day of games and gift giving—which are all wrapped in beautiful Rustan's gift wrapping, of course.
Aside from her religious community and family, she's also fond of giving to children in need. "I also have friends that are kids and sometimes these kids are sick at the hospital. I would just call Miss Cayton and and ask her to send some gifts to the hospital. I believe it helps with the healing of the child. And you don't have to wrap the gifts yourself, they'll get to your home or to the people you're gifting them to already wrapped.''
Her love for giving and sharing has truly been one of the fondest traditions that she has kept with Rustan's and continues to do.
---
Interview by: Timothy Diao
Photographer: Oliver Tam and Frances Ulit
Creative Director: Teej Nepomuceno
Producers: Jannah Galvez, Christine Busano, and Patricia Advincula
Stylist: Jana Valdueza
Clothes by Ricardo Preto and Lady Rustan
Makeup by MAC Cosmetics
Sittings Editor: Ailyn Anzures and Maggie Francisco
Shot on location at Rustan's Makati
---