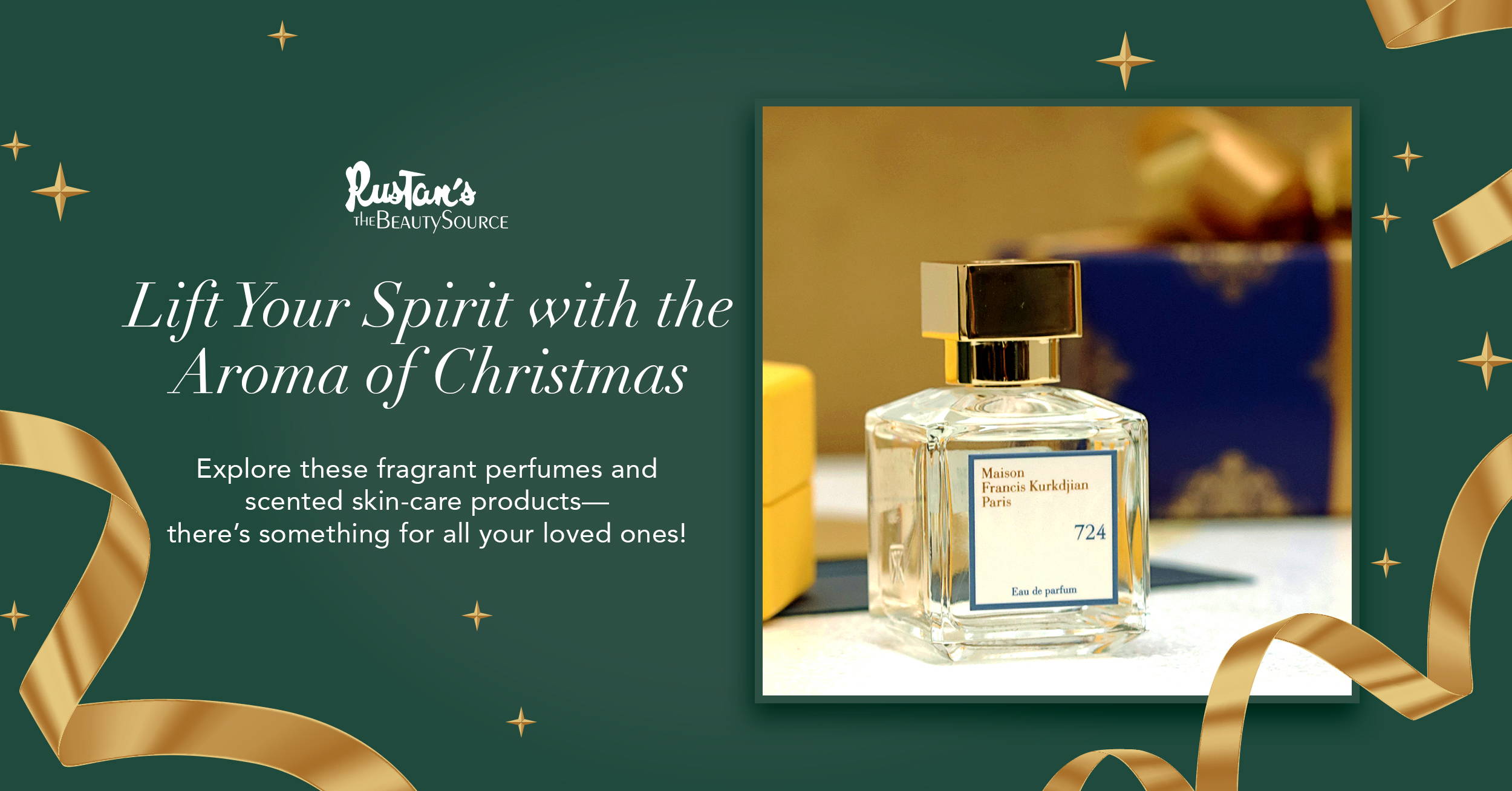 Lift Your Spirit with the Aroma of Christmas
Explore these fragrant perfumes and scented skin-care products—there's something for all your loved ones!
Fragrance is undoubtedly a personal gift for a loved one as it shows thought was put into the purchase. Scent is closely linked with memory, in ways that the gift of fragrance can evoke nostalgic emotions transporting individuals back to a special moment in their lives.
Fragrance can be strongly tied to self-care by means of either spritzing yourself with your favorite scent to jumpstart your day or lighting a candle to relax in the evening. It can be purely visual—whether you're looking at the glass, perfume bottle sitting on top of your vanity, or a ceramic candle placed on your coffee table. Overall, scents are gifts that have a daily presence in the lives of loved ones and can fulfill various purposes.
Gifting someone else a fragrance can be a challenge, especially this holiday season... but it doesn't have to be. To keep you from wandering the Beauty Hall aisles or scrolling through Rustan's website until you're light-headed, Rustan's The Beauty Source is here to let you in on some of our favorite scents that would make the most extraordinary gifts this holiday season.
---

There's something innate about finding joy in flowers, and different blooms project different vibes. The variety of flowers is endless, which means there are floral notes out there to suit different personalities and preferences. For the forever traveler who dreams of a colorful stroll through the flower fields of Provence, France, cop her a scent that will take her there; for the ever-so-classy who adores the scent of roses, get her a stunning perfume inspired by the classic flower.
Floral fragrances might get all the attention, but we can all agree that we're completely enamored with refreshing, citrus scents. Whatever scent your loved one normally prefers, they could definitely use some sparkling citrus notes in their fragrance collection. A perfect gift to someone who is lively and energetic, someone who enjoys a scent that's well-suited for daytime. They'll appreciate that wonderful bottle that will wake them up in the morning and help them stay bright and rejuvenated throughout the day.

Fruity aromas are as inviting as sunny days in summertime, and their sweetness envelops the wearer with a glowing warmth that is so undeniable to resist. It is hardly surprising then that there are so many options to choose from when it comes to fruity scents. Such a wide variety can entice all noses and suit a range of personalities. There is no shortage of fruity perfumes to choose from!

Bold and mysterious, confident, and poised: woody aromatic perfumes are an alluring treat for the senses. Bringing us back down to earth, woody perfumes are warm, balanced, and calming. The popularity of woody perfumes has soared as people embraced natural and beautiful scents, pulled straight from Mother Earth. Aromatic and rich perfumes with big characters and many facets—these unisex scents can be enjoyed from day to night, during our yuletide festivities.
A good perfume says more than words ever could. A beautiful fragrance can lift anyone's spirits and make them feel special. Choosing to gift someone a beautiful aroma is a personal act that takes time and thought to make sure the scent fits perfectly to your recipient's personality and mood. For most of us, fragrances have become a necessity that we reach for in our everyday routine to keep us confident and presentable during our daily grind. A heavenly, scented gift will spread the spirit of Christmas by making sure your recipient will be encapsulated in an aroma that subtly reminds them of you and your love for them.
---