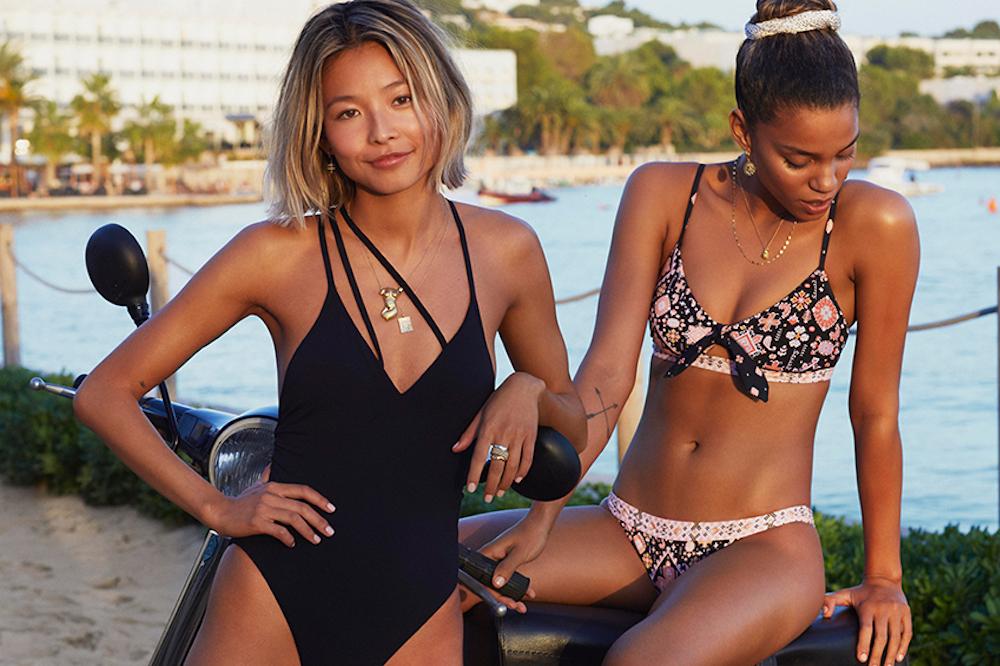 New In-Store: Seafolly SS19
Sunkissed optimism.
For decades Australian swimwear brand Seafolly has been empowering women across the globe, giving them a double dose of optimism and confidence and allowing them to embrace summer living – free and fearlessly through fashion and fit.
Seafolly is exclusively available at Rustan's Makati, Rustan's ShangriLa, Rustan's Alabang Town Center and Rustan's Cebu.
A curated selection is available at rustans.com
This season Seafolly captures the essence of this belief and shows us how summer is far more than a season or even a state of mind – it's a way of life.
Seafolly are inviting women from all walks of life to live a carefree spirit 365 days a year, create a positive outlook and summer like no other.  At the heart of the campaign is stunning new season swimwear. Paving the way with on-trend colours, prints and superb detailing are Seafolly's main summer trend stories, Inka Gypsy, Cut Copy, Splendour, La Luna and Ocean Alley.
Inka Gypsy - In-Store from January
Inka Gypsy is the newest collection in the Seafolly range of environmentally conscious swimwear. Festive colours are printed on recycled fabric, so you can help save the earth, one lap at a time. It waves to the past, featuring tribal motifs and classic styles. It dives into the future, with each piece printed on high-quality recycled nylon fabric. It's mindful; not only does it cherish the earth, it considers and maintains the high swimwear Seafolly quality. Hero styles include maillots with tie-fronts and cut-out details, and tris with details across the back. Rio pants and banded hipsters are designed to mix and match to suit any mood. 
Cut Copy - Available from February
Inspired by renowned artist Matisse, Cut Copy is a work of art. It swaps soft flowers for bright leaves, bringing more shade to the sand and more groove to summer. The backdrops of the collection are both warm and cool: warm hues of peach, plum, and buttercup bloom in our Tangelo colourway while cool tones of lilac, black, and buttercup are splashed on our Blueprint colourway. Think square necklines, hi-rise bottoms, and split-side Brazilians suits.
Splendour - Available from February
Slip into a summer dream, of white walls, turquoise seas, and flower gardens that never end. Splendour is a vintage collection, with purposely-mismatched prints, on-trend scarves, feminine details, and a sweet outlook on life. Splendour is a collection that gives attention to detail too: Styles are finished with scarves and ties, and mismatched to vintage florals. The collection gives attention to current trends, with a 70's glam twist of being printed on soft sateen base.
La Luna - Available from March 
When the sun goes down, La Luna rises. A collection with all of the brightness of the sun and the magic of the moon. It's made and worn in celebration of summer; all its phases, memories, and moods. With mindful, key pieces; it's a curated collection. The styles are minimally retro, with coverage for all comfort levels, and support for most cup sizes. Simple, modern shapes include tie front crop tops, high-waisted pants, and high neck maillots, with a plunging back.
Ocean Alley - Available from March 
Take a trip to paradise, to Ocean Alley. The print is tropical and floral, reminiscent of Hawaii's natural landscape. Tortoiseshell rings and bead trims are the details of the moment. The collection includes an element of sports luxe, with Lurex rib elastic contrasting the print on Brazilians, fixed tri bras, DD cup bralettes, and active leggings.
About Seafolly
Seafolly is the leading Australian swimwear brand founded on quality and style. Born on the beaches of Sydney, Australia in 1975, Seafolly is sold in over 2,700 doors in 41 countries, through its own channels, leading retailers and major online retailers. 
Seafolly is exclusively available at Rustan's Makati, Rustan's ShangriLa, Rustan's Alabang Town Center and Rustan's Cebu.