perfect pairings
Thinking of hosting a party? Maybe, planning a wine and dine date? Or you simply love a good wine, because who doesn't? Then, read on for perfect wine pairings you can do for your next party or date night.
Wine is, indeed, one of the most popular drinks in the world. It has become a tradition to serve wine for social meetings, events, or even for at home gatherings. From red to white—Reds for formal dinners, Champagne for brunches, and Rosé for summer parties—there is a bottle of vino fit for any occasion. But, did you know that each type of wine has its own characteristics and flavors that is best served with certain types of food? Though we are all guilty of pop and drink (opening a bottle and serving it regardless of the food we pair it with), let's take a step back and learn basic wine pairings to get the best out of your favorite wine. While you're at it, discover the right kind of wine glass to further enhance your drinking experience.
The golden rule: Balancing flavors.
The Popular Red
Cabernet Sauvignon is known for its dark color and full body character with alcohol content that is over 13.5%. It is dry due to its high tannin and acidity. It is best served with food than by itself. The rich flavors of this wine makes it one of the world's most recognized wine varieties.
As a general rule, Cabernet Sauvignon is best to pair with richly flavored dishes that will break through its overwhelming taste.
Perfect Pairings
Entrée: Red meat with rich and hearty flavors
Pasta: Tomato-based pasta sauce with thicker consistency
Cheese: Hard or aged cheese such as Parmigiano Reggiano, Pecorino, Aged Manchego
Dessert: Strong-flavored dark chocolates
Wine Glass
Cabernet Sauvignon is best served in a tall and round, balloon-shaped glasses. The shape exposes the wine to oxygen which helps smoothen its strong, overpowering flavors.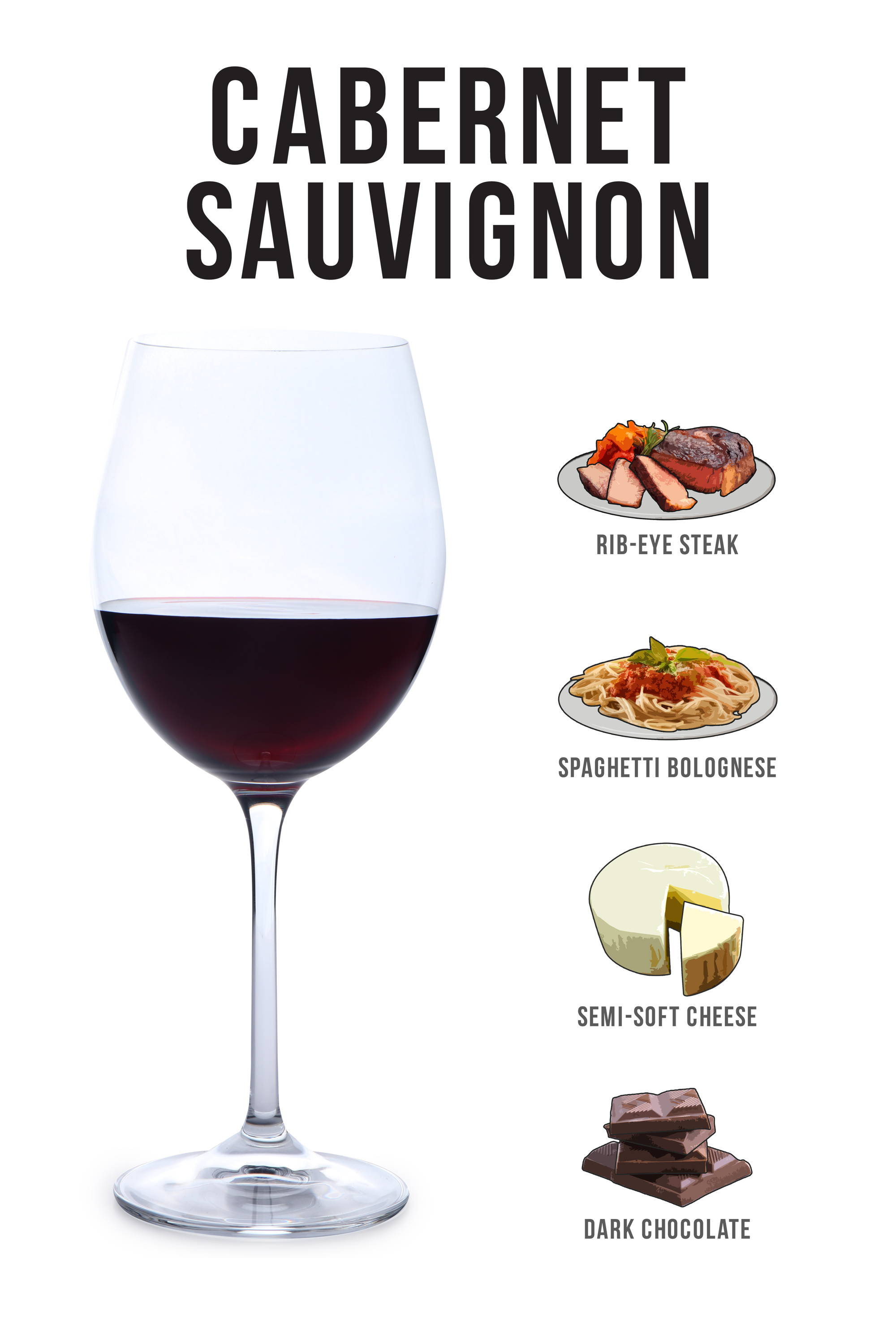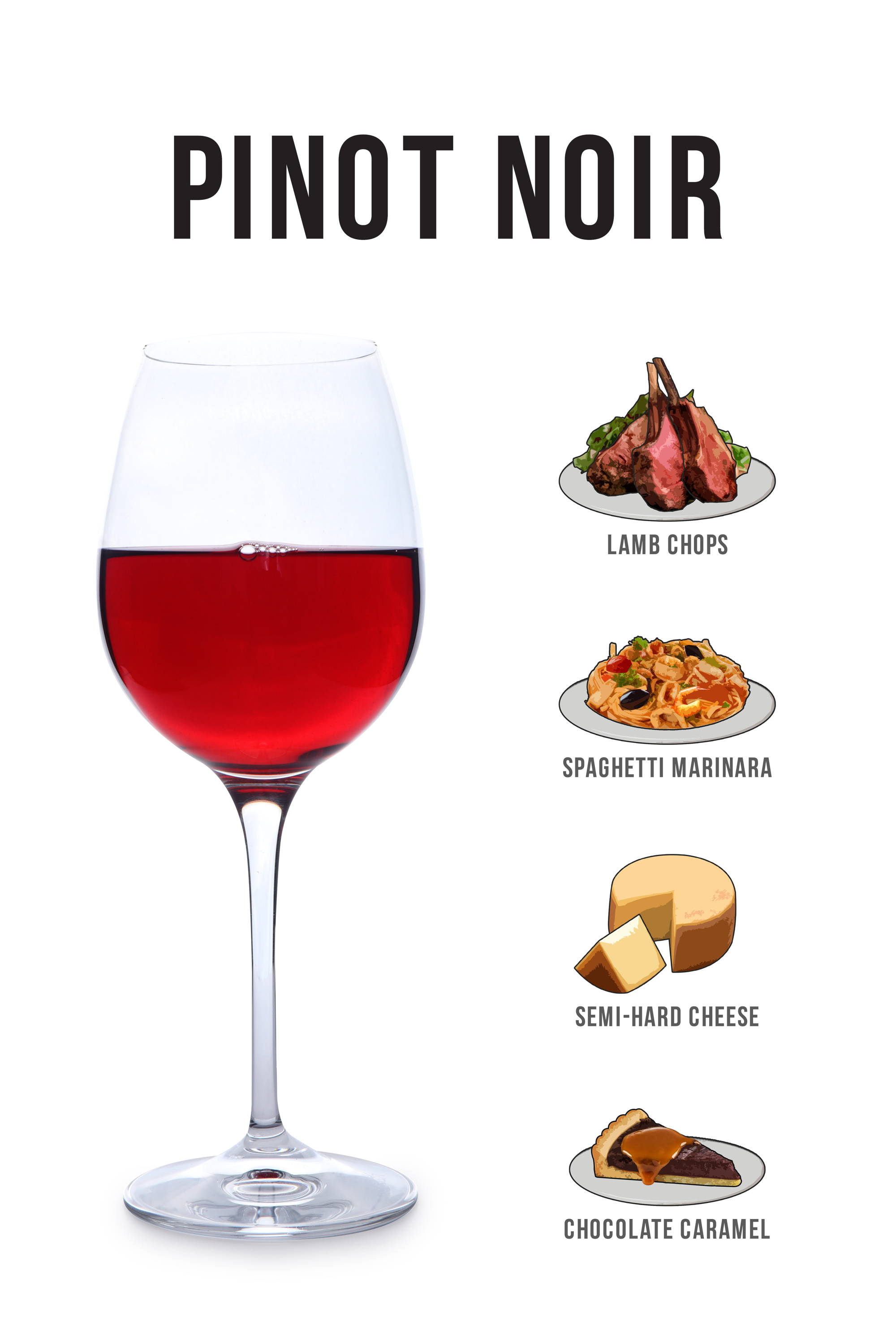 Romantic Red
Pinot Noir is well-loved for its dry, light- to medium-body, and elegant tannins. It has complex flavors from light to fruity depending on its origins. Due to its delicate characteristics, it is best served chilled and should not be paired with rich-flavored dishes that can overpower its taste.
Perfect Pairings
Entrée: Lighter meat options such lamb or pork
Pasta: Any tomato-based pasta sauces, or for fruity red wine variants go for cream-based sauces
Cheese: Semi-hard cheese such as Cheddar, Gouda, Baby Swiss
Dessert: Chocolates and desserts on the sweeter side
Wine Glass
Pinot Noir is best served in a wide bowl glass with a tapered rim that will showcase its elegant aromas.
The "It" Wine
Rosé has reached popularity in recent years. Generally, it is known for its fun, fresh, and fruity taste ideal for warmer days. Depending on the origins, each type can have a slightly different taste—savory, dry, or sweet.

Perfect for alfresco dining like barbecues and clambake picnics, Rosé pairs well with almost anything. It holds its flavors well with both rich-tasting dishes and light-flavored meals. Best served chilled.
Perfect Pairings
Entrée: Great to pair with hefty seafoods, paellas, and grilled meats
Pasta: Light pasta sauces with seafood, raw or lightly cooked shellfish
Cheese: Fruity Rosé goes well with goat cheese or any soft cheese, dry ones are great with semi-hard cheese
Dessert: Fruit-based desserts such as fruit tarts, lemon bars, chocolate-covered strawberries
Wine Glass
Unlike other varieties of wine, Rosé is more versatile. It can be served with tulip-shaped Champagne glasses, or with narrow wine glasses. In recent years, diamond-shaped glasses with a wide mid-section and thin stem is the preferred glass for serving Rosé. This glass-style helps intensify the aromas of the wine, enhancing its most appealing characteristics.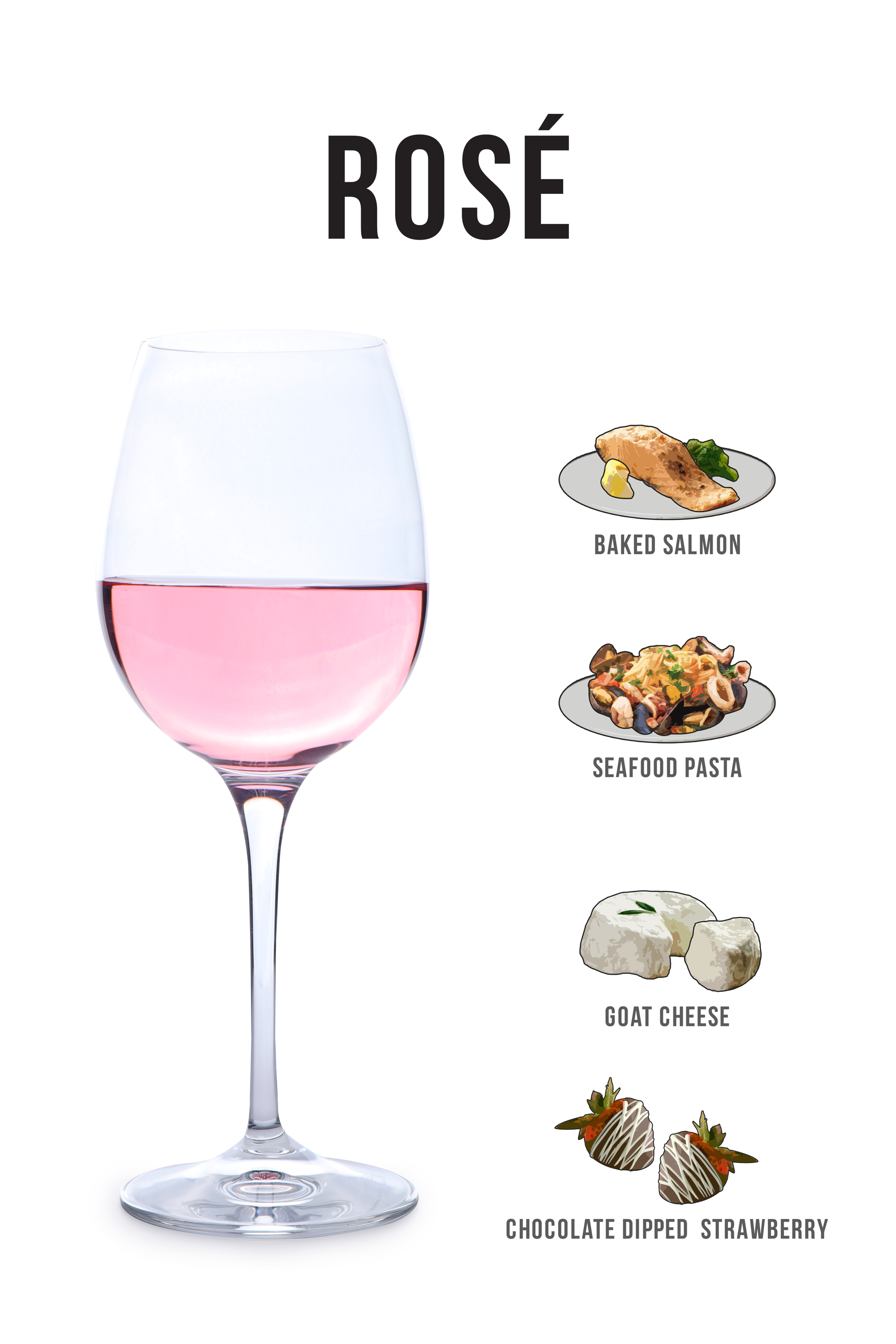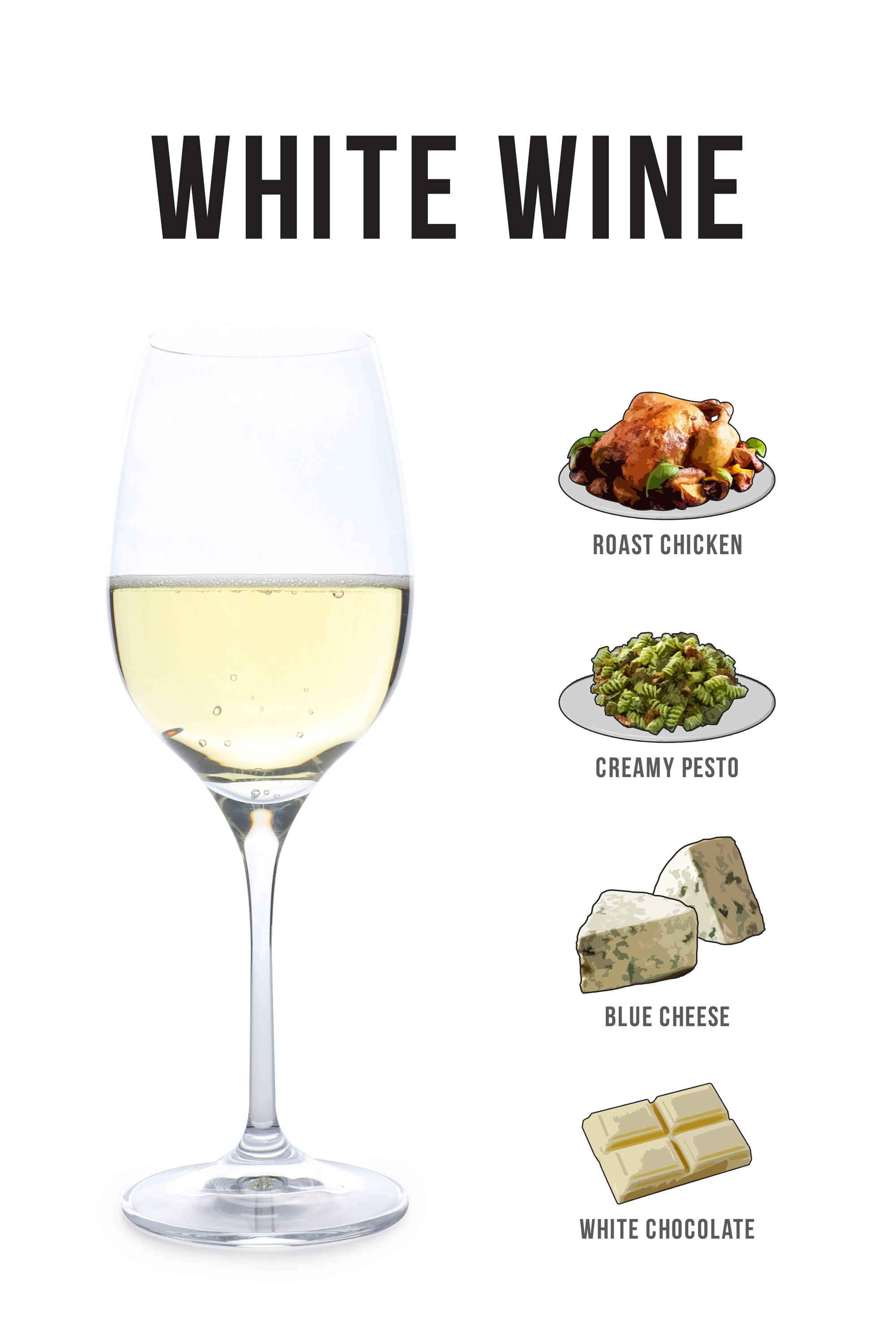 Fresh and White
White Wine is sought for its crisp, fresh, and citrus flavors. It has lower tannins compared to red wines. Some types of white wine are dry and grassy, some have sweet and aromatic notes. It is common for white wines to have a refreshing characteristics.
Pairings for White Wine can be tricky, overall it favors light poultry entrées, salads, and herb-based dishes.
Perfect Pairings
Entrée: Light poultry such as chicken and turkey
Pasta: Herb-based or light pasta sauces for Sauvignon Blanc, and cream-based sauces for Chardonnay
Cheese: Soft cheese such as brie or boursin for driers whites, and blue cheese for sparkling ones
Dessert: White chocolate, butter or cream-based desserts
Wine Glass
Universal white wine glasses have tall structures and u-shaped bowls. This is ideal for serving Sauvignon Blanc. Flutes and tulip-shaped glasses are best for Champagnes and other sparkling whites.

The people. The partying. The dinners and the soirées. New Year's Eve and birthdays. The little celebrations and the big dreams. The tables. The senses. The glassware. And every moment. To 150 years of history and to the moment. Because now is the moment anything is possible.
Schott Zwiesel is celebrating its 150 years of dedicated passion, uncompromising quality, and people coming together to celebrate life. Explore the wonders of Zwiesel glass.
Creative Producer & Writer: Stephanie Bagulbagul
Photographer: Joy Frances Ulit
Art Director: Kevin Dexter Magno
Production Manager: Elaine Contreras
Production Designers: Mica Carreon & Claude Vizconde
---