If you love the feeling of dewy, clear, healthy skin and that gorgeous, airy scent of skin care, you're about to be obsessed with Saturday Skin

Question: "What's your favorite day of the week?"
If you ask us at Rustans.com, it would have to be Saturday. After all, this is the day we can pamper ourselves, relax as long as we want to, and practically just bathe our skin with our favorite skin-care products. Especially in recent times, having a quiet and restful day is a pleasure in life we need to indulge in. While we all wish Saturday is actually a full week, the next best thing is to recreate that weekend feeling for your skin.
Introducing Saturday Skin.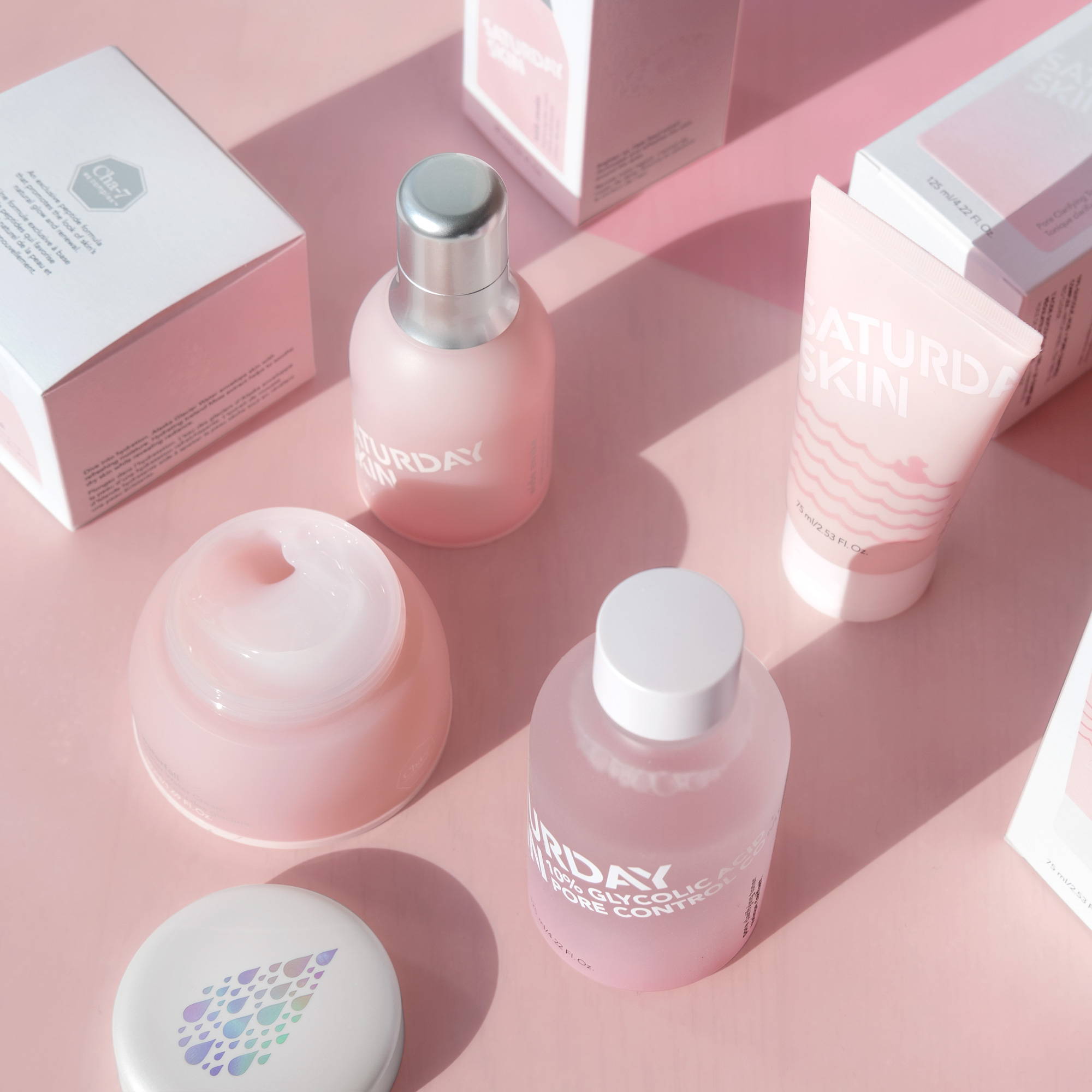 A cult-favorite skin-care brand from South Korea, Saturday Skin was created to reveal your skin's natural radiance. It is highly-commited to provide clean, vegan-friendly, gluten-free beauty without adding any harmful ingredients such as parabens, surfactants, artificial colorants, or fragrances. Oh, and it's cruelty-free too!
For Saturday Skin, the desire is to bring out the best version of your skin by harnessing on the power of superfoods, plant-based ingredients, paired with the advanced science to help reimagine modern beauty to suit your skin's needs.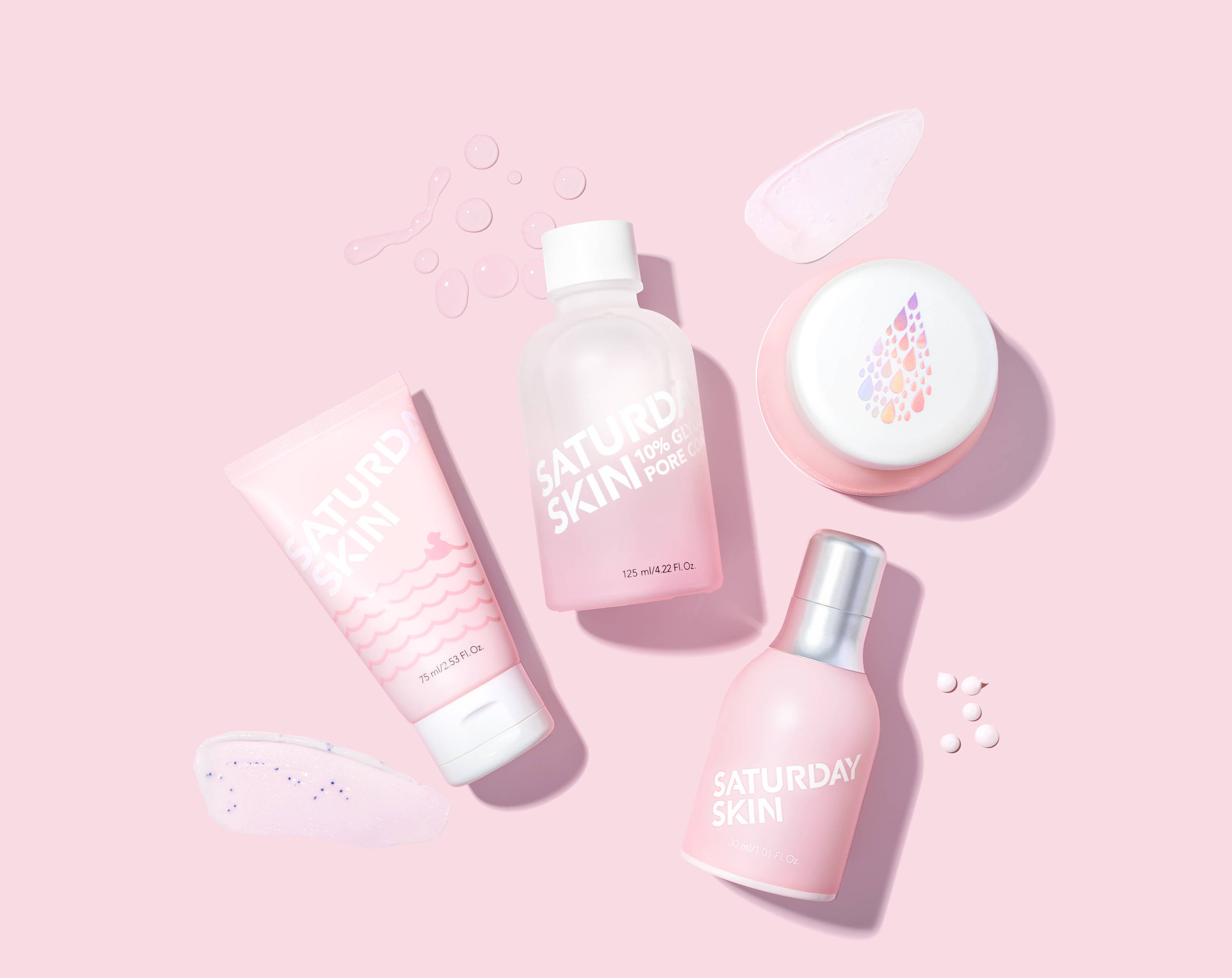 Saturday Skin is self-proclaimed "weekend in a bottle", which basically translates to a skin-care line full of products with formulas developed to mimic the way your skin looks when you wake up feeling refreshed: clear, dewy, and supple. With K-beauty being all the rage, it's most likely you've scrolled by the pretty pink and shiny bottles on your Instagram feed before. Behind the Millennial pink and holographic bottles is skin care that seriously works.
Here are some of the products you need to add to your shopping bag now.
Rise + Shine Gentle Cleanser

A soft, whipped cleanser that combines a hydrating gel with a bouncy, cream texture for super-fresh, healthy-looking skin, Rise + Shine Gentle Cleanser lathers into a rich, frothy foam, effortlessly removing impurities and imparting a fresh, clean feeling on skin without leaving it feeling stripped of moisture.
Saturday Skin Pore Clarifying Toner is a watery facial toner enriched with 10% glycolic acid, along with a blend of antioxidant-rich tea tree, witch hazel and red clover. The combination of these ingredients coupled with Sodium PCA works synergistically to clear out clogged pores, smooth out uneven skin texture and give you overall smoother skin.
Waterfall Glacier Water Cream

Refresh and quench your skin with a burst of hydration. The Waterfall Glacier Water Cream contains Alaskan glacier water and Iceland moss which is high in skin-loving mineral and antioxidants to protect the skin against external environmental stress, calm redness or sensitivity while visibly plumping and hydrating the skin.
Wide Awake Brightening Eye Cream

A step as simple as adding the Wide Awake Brightening Eye Cream to your skin-care routine helps plump, brighten your eye area to improve the appearance of fine lines or dark circles. This brightening eye cream is made with a blend of peptide complex, avocado and date seed extract that gives a cooling, illuminating finish to revitalize tired-looking complexion. Perfect to use underneath makeup and to get that no-makeup look!
Yuzu Vitamin C Sleep Mask

Deliver deep hydration to revive dull skin with this nourishing sleep mask that includes both Yuzu extract and retinol (Vitamin A). The Yuzu Vitamin C Sleep Mask works overnight, so you'll wake up with radiant, smooth and supple skin. With a unique jelly texture, this facial mask is suitable for all skin types.
Carrot + Niacinamide Moisturizing Cream

Perfect for reviving dry skin, the Carrot + Niacinamide Moisturizing Cream contains lipids and ceramides that work with beta-carotene to help protect your skin from environmental stressors and calm irritation. Packed with niacinamide, it's here to help improve skin's moisture barrier for better hydration and texture, while centella asiatica extract assists with the appearance of healthier-looking skin overall with improved elasticity and tone.
Being the largest organ of the body with rather complex concerns, our skin is at its very best when it is well-nourished and hydrated with healthy ingredients. Saturday Skin is inspired by nature and science, delivering effective skincare recipes for radiant, well-rested and revitalized complexion like how a relaxing weekend feels!
---