A New Era of Masculinity
Dolce&Gabbana lets you be the king of your everyday life with the launch of this new fragrance in a campaign with Mariano Di Vaio
Mariano Di Vaio, notably Italy's most famous male blogger, is also a husband, a father, and an entrepreneur. It is no wonder that Italian luxury label Dolce&Gabbana has chosen Di Vaio as the new face of K by Dolce&Gabbana, the brand new fragrance for men.
The scent celebrates the essence of a man in his element, the "king of his everyday life," Di Viao is an indisputable choice to embody this new eau de toilette. His entrepreneurial spirit resonates with the fragrance, which takes inspiration from the man who follows his own path, cherishing his family and loved ones above all else.
The Film
An accompanying film features Dolce&Gabbana's interpretation of a modern-day king, a man who succeeds in professional and personal spheres.
The vignette opens in a vineyard on the outskirts of Montepulciano, Italy. Dressed in a simple white tank, Di Vaio cheerily greets the workers. In the next scene, the Italian blogger is seen overlooking the fields from a hill. Wearing a crisp white button-down, dress pants and loafers, he rides a motorcycle into the nearby village.
In the village, Di Vaio meets his friends over drinks and playfully holds his son. A romantic scene with his wife is seen next to show that he has found contentment and happiness in all aspects of his life.
Shots of the countryside with glimpses of the bottle are seen to connect this campaign to Dolce&Gabbana's Italian roots.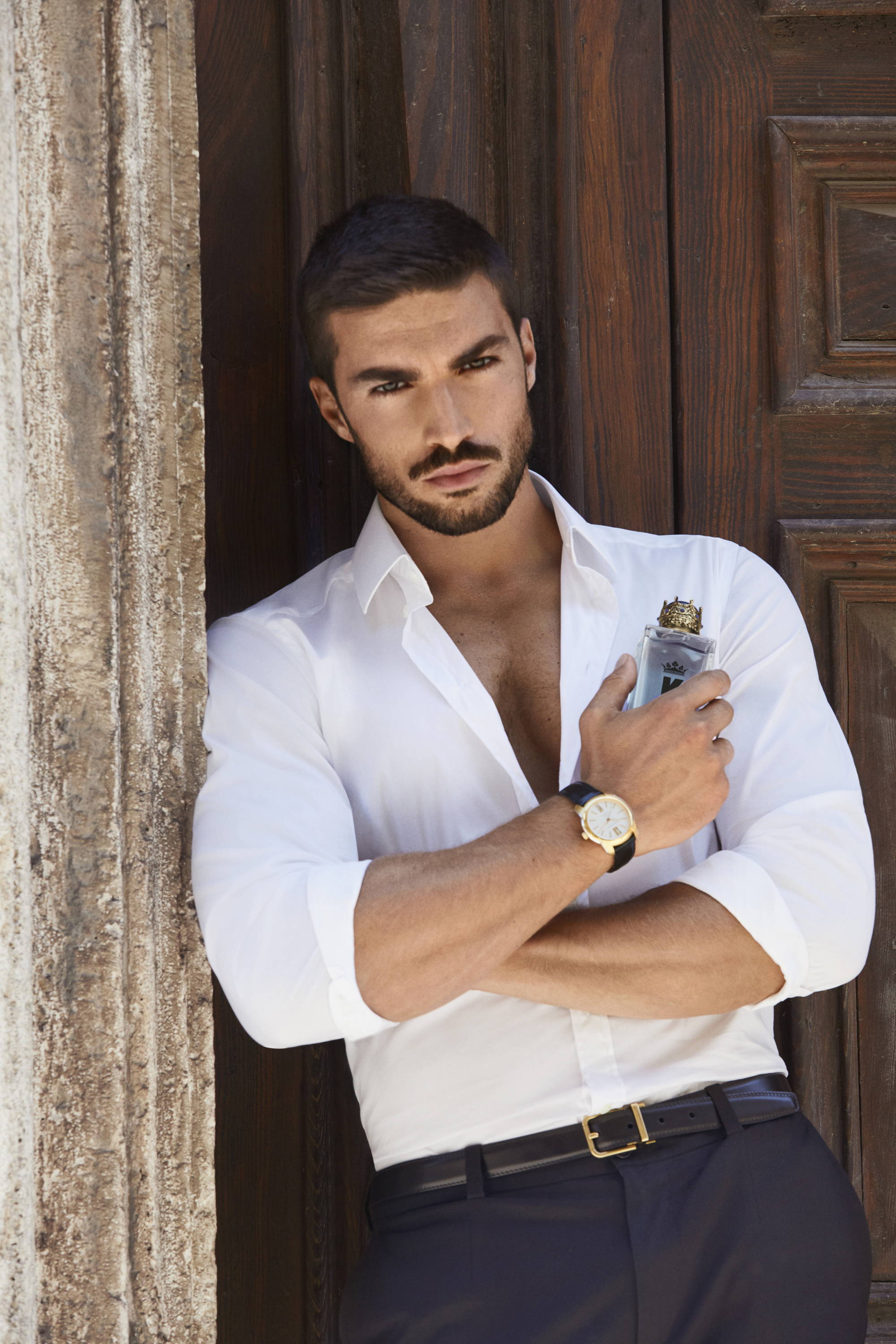 Modern Masculinity
In an interview, Di Viao revealed that K by Dolce&Gabbana "reminds me of this little wooden house in Sardinia my family used to stay in when I was a child. It had loads of trees at the front and the sea and mountains. There was a cozy fireplace that we would sit around at night. My parents had to work hard so this was one of the few times we were all together."
Created by two renowned French perfumers, Daphné Bugey and Nathalie Lorson, the fragrance creates a vibrant cresendo of citruses, with fiery aromatics and sophisticated woods.
The fragrance features top notes of Sicilian lemon and sparkling blood orange with juniper berry. Its heart includes amber accents with clary sage, geranium, lavandin, and pimento essence. A base of cedarwood, vetiver, and patchouli round out the fragrance suited for a modern day king.
The bottle's chiseled geometric design features a modern day crown encircled with blue stone-like orbs, set beneath a blue lapis dome—each also unique, resulting from a process that recreates the natural marbling of the stone. Each handcrafted cap is unique, the crown overlaid with particles of 24-carat gold and then individually aged to a distinct patina.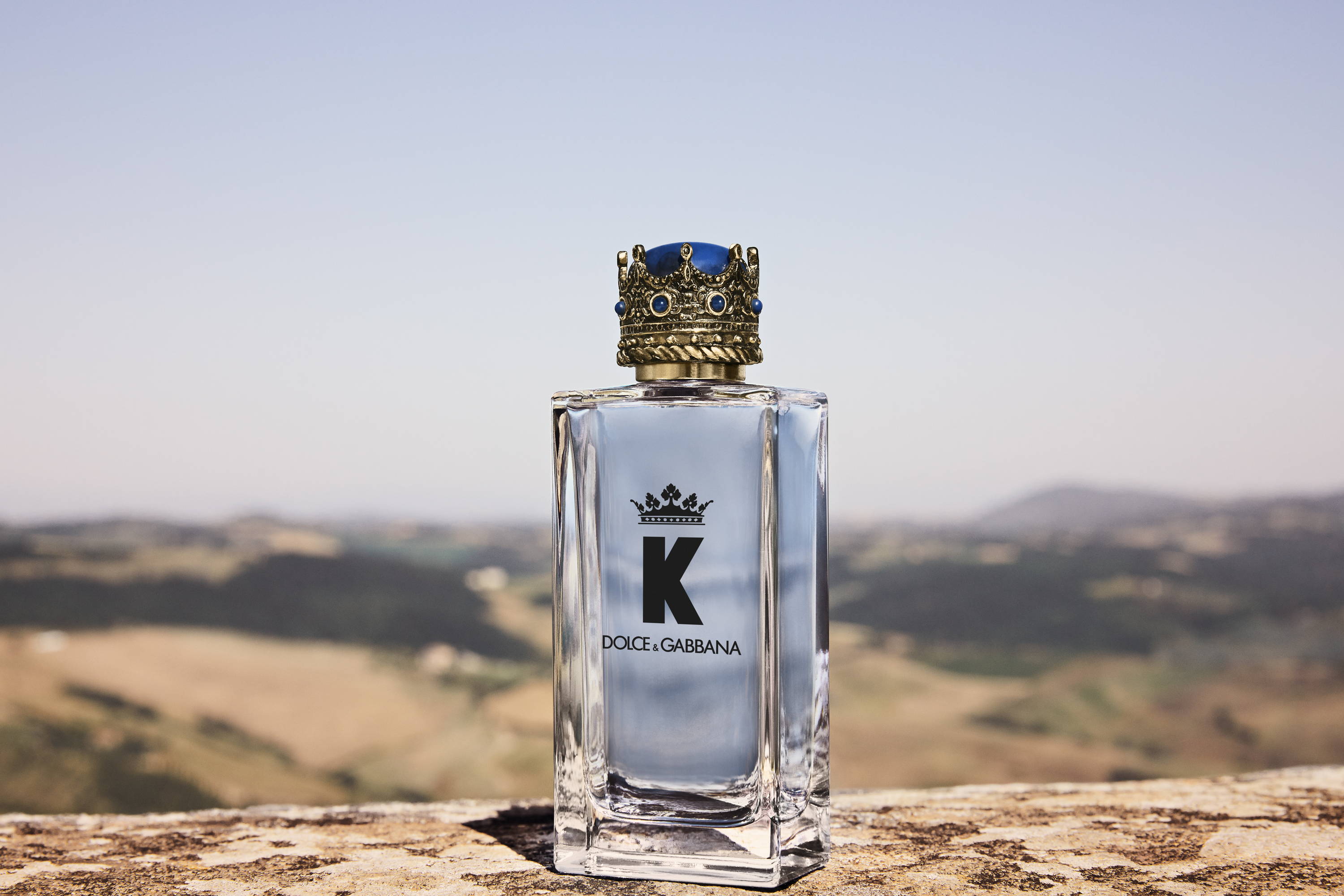 Dolce&Gabbana's exploration of the multifaceted nature of masculinity in a campaign was perfectly captured by the Italian influencer. Effortlessly charming and not afraid to show his vitality, Di Viao remains true to his roots, respecting tradition while embracing modernity.
K by Dolce&Gabbana is now available at rustans.com. For a limited time only, you can receive a free K by Dolce&Gabbana Pouch for every bottle purchased.
---