Meet LIZ: Your New Daily Companion
This smart bottle from NOERDEN will remind you when to drink water... And will even clean itself!
With most of us working from home for more than a year, it goes without saying that your day-to-day basically revolves around eight to 10 hours sitting on your desk, looking at the monitor, typing away on spreadsheets and documents, editing files, and attending meetings via video calls. Yes, you may also start or end your day working out, but, admit it—you spend so much time staring at the screen that the only times you get up from your desk is when you need to eat or go to the bathroom. Something people tend to forget, especially during these trying times and you're deep into what you're doing with work, is to drink more water. And now more than ever, you need to drink more water.
It's not just the fact that most people are feeling the heat, especially when you're living in a tropical country with those high temperatures on the daily and you're feeling even more parched than ever. Water makes up 60% of bodies and 85% of people's brains. Something as little as a 2% drop in one's hydration level can cause immediate physical tiredness and loss of concentration. We've seen the productivity hacks—always have a tumbler by your desk—but, let's be honest: how often do you drink from it? Do you set reminders on your phone? Maybe it's not the way to go. If we have smartwatches that track our health, why not have a smart water bottle that is going to steer you towards having those required two liters of water every day?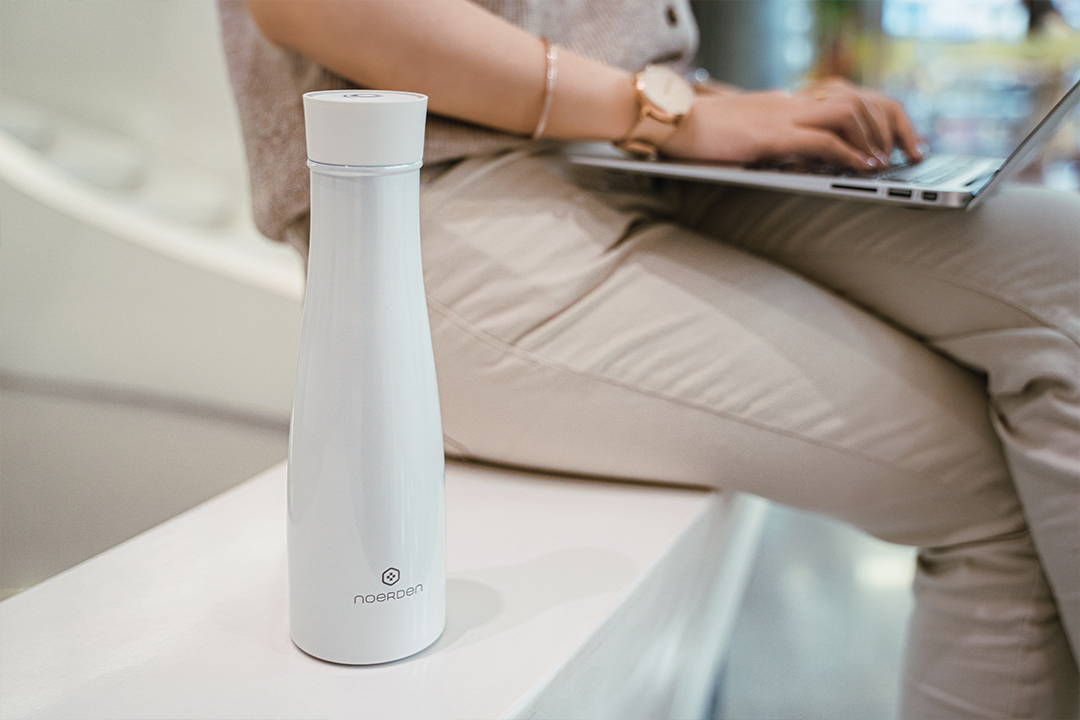 Introducing LIZ.
A new innovation by the French digital fitness tech company NOERDEN, the LIZ Smart Bottle is a next-gen self-cleaning water bottle that helps you effortlessly lead a healthier and happier lifestyle by providing you clean drinking water and reminders to stay hydrated.
NOERDEN LIZ Smart Bottle looks like a simple metal insulated water bottler but when you take a closer look, you'd never know that it has more than just a few tricks up its sleeves. Once you've downloaded the NOERDEN App on your phone and connect the LIZ Smart Bottle, you can set your daily objective, get personalized water intake recommendation, set hydration alarms, manually enter your beverage consumption, and follow your hydration progress.
Every two hours, LIZ's smart lid blinks to remind you to hydrate. Drink three to four 480mL LIZ bottles to make sure you get the optimum daily intake of 1.5L to 2L.
Germophobes will love this bottle even more. With its touch responsive smart lid with a built-in UV-C light, this bottle kills up to 99.9% of harmful viruses and odor-causing bacteria. Using it is easy—simply tap the lid twice to start the sterilization process that sends the UV-C light through the empty bottle or even through the water to destroy bacteria and viruses by breaking down their DNA. When the sterilization is complete, the LED indicator will stop flashing, letting you drink your water clean.
LIZ is made from high-quality materials, such as its vacuum-insulated stainless steel casing. This ensures your beverages will retain their temperature for up to 12 hours for hot and 24 hours for cold. This smart bottle can also indicate the temperature range of the beverage inside. Tap the smart lid once and the LED will blink in the color corresponding the temperature range—blue for cold, yellow for warm, or red for hot.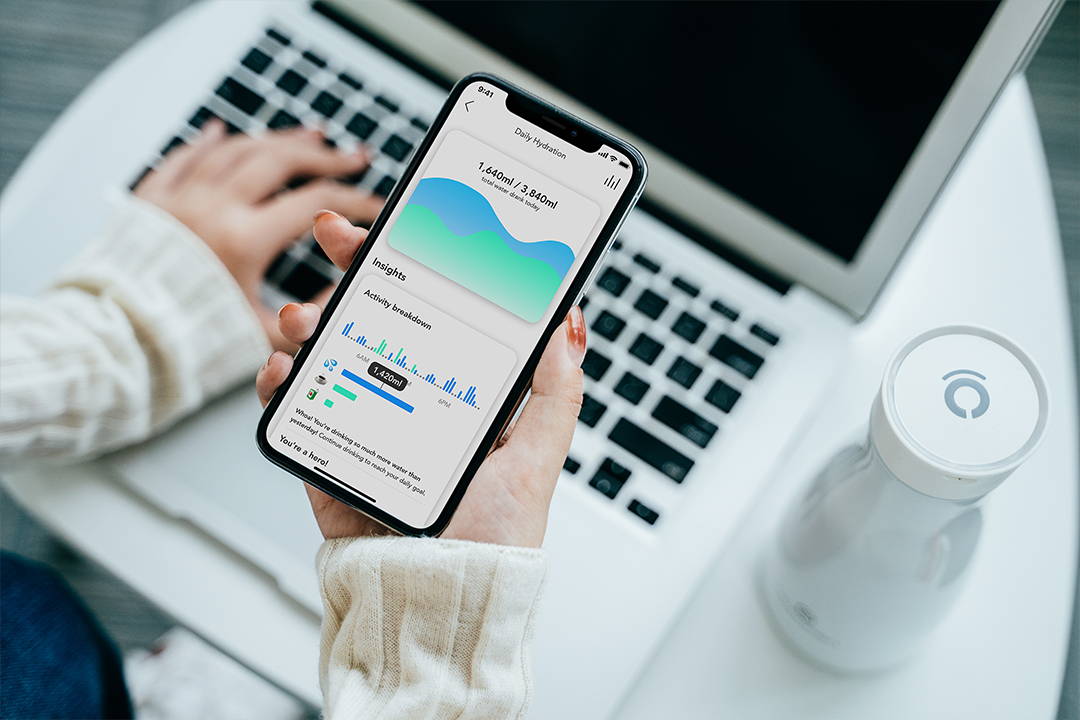 LIZ's rechargeable lithium battery lasts up to one month with one UV sterilization a day, making sure you can take this bottle with you anywhere you go. When the battery power is below 5%, if you touch the lid, a red light will flash rapidly. This indicates the battery is low, it's time to charge your LIZ! Charging the bottle is easy, too. It comes with a magnetic USB cable which clips onto the lid. When the lid turns white, the bottle is fully charged!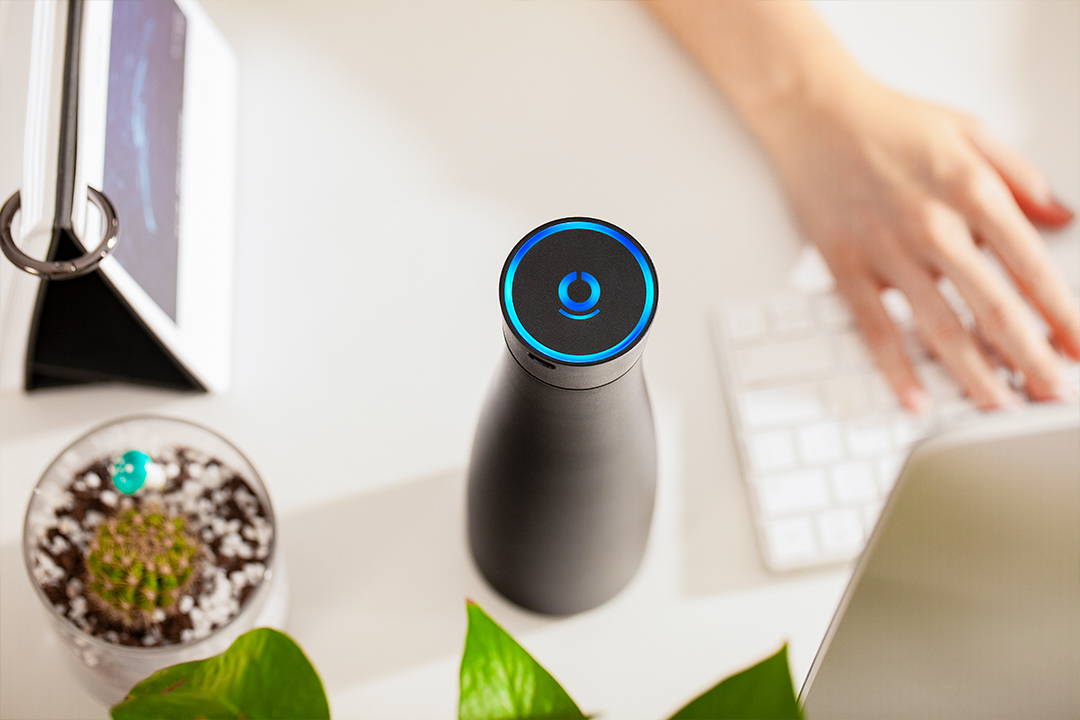 Available in two sizes (480ml/16oz and 350ml/12oz) and two colors (white and black), the LIZ Smart Bottle delivers a great user experience in a lightweight, elegantly designed bottle built from durable materials, making it the perfect reusable solution to stay hydrated on the go.
---