Carry Your Tropical Lifestyle
Discover these five chic and functional bags perfect for the different facets of your tropical lifestyle
Blessed with a duality in the lifestyles that we lead here in the Philippines, dressing for the tropics and the city is often faced with blurred lines. You'd see an amalgamation of chic resortwear and sleek street style wherever you go. But one thing we're certain about is that there's a demand for pieces we can wear and carry with no worries wherever our tropical lifestyle takes us.
One thing that comes to mind is a bag that we can lodge around while running from one meeting to another, and then jet off with to the nearest beach for the weekend. A bag so sturdy and strong it can outlive our hectic schedules and enjoy our times of leisure. A bag so chic yet so functional that you wouldn't even think of switching it out.
Why settle on one bag when you can have five. Yes, five beautifully crafted bags from Philippine-born brand Viajecito to carry your tropical lifestyle with you. From errands in the city to meetings at the office, and even a full day of island hopping, Viajecito's exclusive line with Rustan's features its iconic EVA silicone-rubber totes and bucket bags in colorways that you can only find at rustans.com
Scroll on through to see how these bags fit and what you can fit into these bags.
Working on our fitness
Viajecito's maiden bag is the Classic Monochrome Beach Tote Bag in waterproof EVA foam. This particular style from rustans.com is designed in monochromatic coral—from its rope straps to its body, and even its interior pouch and zips.
We highly recommend carrying it to your next workout session. Its size is perfect for a change of clothes, your workout gear, and then some. Plus the bold color gives a sporty appeal.
just heading out
Aren't there times when you're just rushing out the door and you just need to bring the bare essentials with you? This is the perfect for those moments. Viajecito Milvidas Splashbucket is the sort of bag that fits your phone, a lipstick for retouching, your wallet, and other essentials. It might seem like it's not a lot, but what else would you need if it's juts a leisurely day out, right?
Work appropriate
There's not a lot of beach bags fit for the workforce. You can carry your macrame tote with you and even those trendy Bali bags to the office, but it would not function as great as this Classic Monochrome Beach Tote. Don't let the name fool you, this tote in blue is the perfect bag to lodge around your date book, wallet, laptop, cosmetic pouch, and more. Plus your daily commute would be hassle free come rain or shine with this one.
Travel-Ready
Taking the Milvidas Splashbucket in coral with you on your next trip hits close to home with this bag. Its EVA body and gartered strap makes for the perfect bag for exploring the cityscape, checking out the local markets, lounging by the pool, and going on a day of island hoping. It's ergonomic, spacious, sturdy, and waterproof.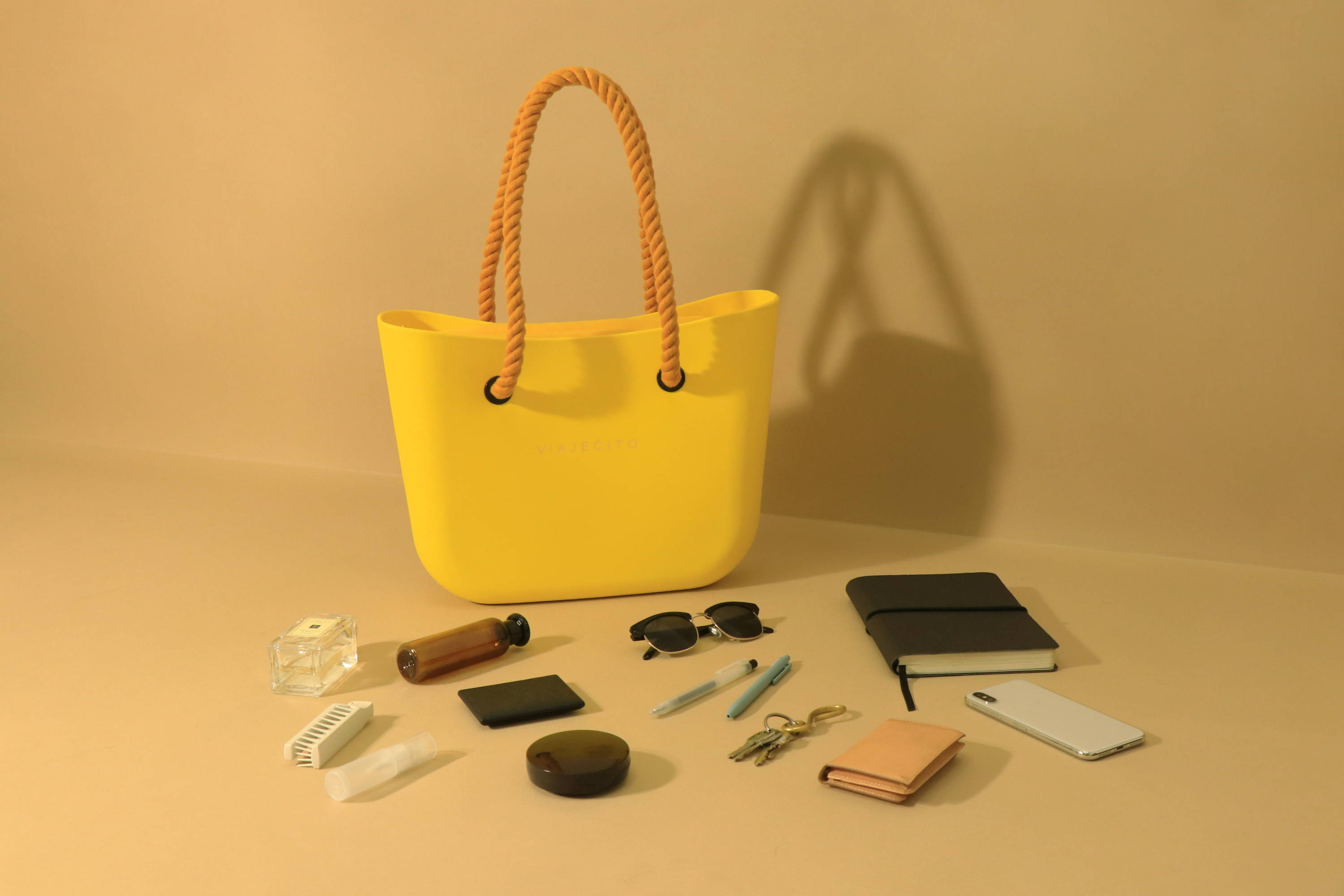 for the city folk
Just because you're staying in the city this weekend doesn't mean you shouldn't be sporting the Classic Monochrome Beach Tote Bag in yellow. Aside from the bag's storied functionality—yes, it fits so much of your essentials and shields them from unexpected weather changes—it's canary yellow hues makes for a bold style statement. The sort of yellow that punctuates any look you're sporting.
Viajecito's masterfully crafted bags are more than just our beach favorites. Living in a country that's filled with so much beach destinations as well as metropolitan hubs, the brand's bags made with superb craftsmanship, specialty materials, and beautiful designs and colorways are the perfect ones for your tropical lifestyle.
Photographer: Frances Ulit
Creative Direction: Hans de Baras and Timothy Diao
Art Director: Hans de Baras
Producer: Timothy Diao
Product Stylist: Timothy Diao, Patty Mendoza, and Elaine Contreras
Production Coordinator: Elaine Contreras
---