Between the Sheets: Natalie Off Duty
We met up with Natalie in Brooklyn to get a glimpse into her daily routines and how she styles her apartment.
Natalie Lim Suarez made a career of her many talents. A model/musician/blogger,to name a few, Natalie designed her Natalie Off Duty blog to document her life in the fashion world. With a family tree representing her diverse genealogy, Natalie is ½ Chinese, ¼ Spanish, ¼ Mexican. Natalie's blog invites us into her world of photoshoots, fashion shows, trend reports, and travels around the world to the most glamorous locales. When she's not jetsetting in places like Paris or LA, Natalie can be found getting cozy in her luminously minimalist-meets-shabby chic apartment. We met up with her in Brooklyn to get a glimpse into her daily routines and how she styles her apartment.
Kassatex: First thing you do in the morning?
Natalie: Make my bed and brew up a pot of coffee.
K: Your go-to breakfast is:
N: Whole wheat sourdough toast and Nutella.
K: Favorite Instagram filter?
N: I actually create my own filters!
K: Best music to model to?
N: The Rolling Stones
K: Describe your bedroom in one word:
N: Contemporary
K: Three beauty products you can't live without?
N: Sisley Paris Integran Anti-Age Cream, Armani Beauty's Face Fabric Foundation in Shade #2, Dr. Jart + Tiger Grass Nightly RePair Mask
K: What's currently on your bedside:
N: A jade face roller. I use it to massage my face before bed. It makes my skin glow in the morning.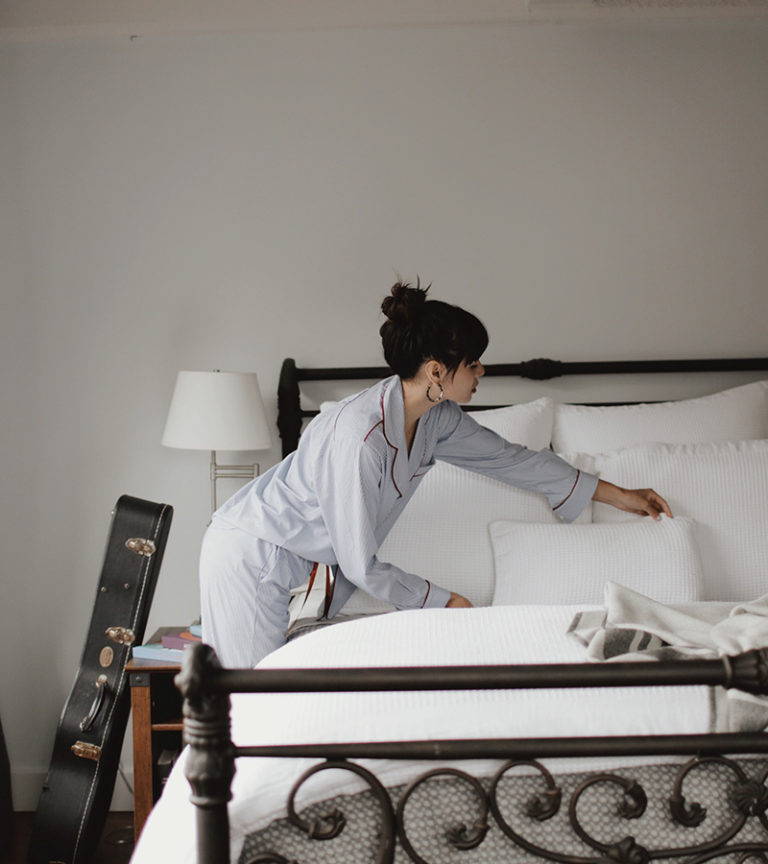 K: Most memorable photo shoot?
N: The Urban Decay "Getaway" campaign film shot with my sister, Dylana, in the desert of California and Malibu. It was one of our first beauty ad campaigns together.
K: Finish this sentence: "I can't stop wearing my"
N: Classic Chanel bag I got in Paris.
K: Black out shades or let the sun shine iN:
N: Black-out for night, Sunshine all day long!
K: Saturday mornings always start with _____ and end with _____
N: Start with a run along the DUMBO waterfront and end with reading a few pages of the book I have on my bedside.
K: Your forever favorite restaurant:
N: Saigon Shack. It's a super low-key Vietnamese restaurant in the West Village. I always crave their lemongrass chicken pho.
K: Favorite karaoke song:
N: Spice Girls – Wannabe
---